Bear Grylls Adventure Official Launch Party
My Amazing Day at the
Bear Grylls Adventure VIP Launch Party
Today I had the amazing opportunity of attending the Bear Grylls Official VIP Launch Party.  It was an amazing day and I met some truly inspirational people, pushed myself to take on new and exciting challenges, and ate some very strange food!  Read on to find out how the day went and learn more about this amazing attraction.
Disclaimer – I was invited free of charge on the assumption that I would write an honest review and account of the day.
What is it

?
It's an indoor and outdoor adventure centre operated by Merlin (think theme parks, Warwick Castle, the Dungeons attractions etc.).  The website describes it as:
"The Home of Earth's greatest adventure challenges.  
Test your limits as you take on some of the world's most incredible mental and physical challenges inspired by Bear's love of adventure. We'll get you geared up and ready to climb, dive, fly, zip, leap, scramble and explore.  
Escape the ordinary and push yourself to achieve the remarkable at The Bear Grylls Adventure."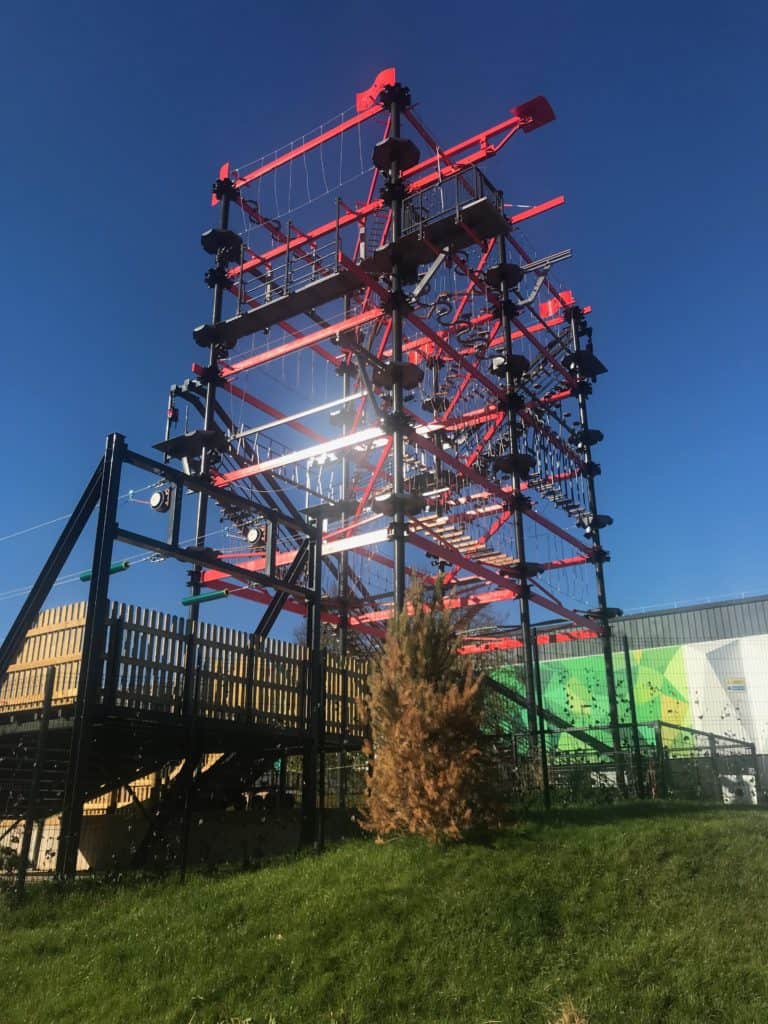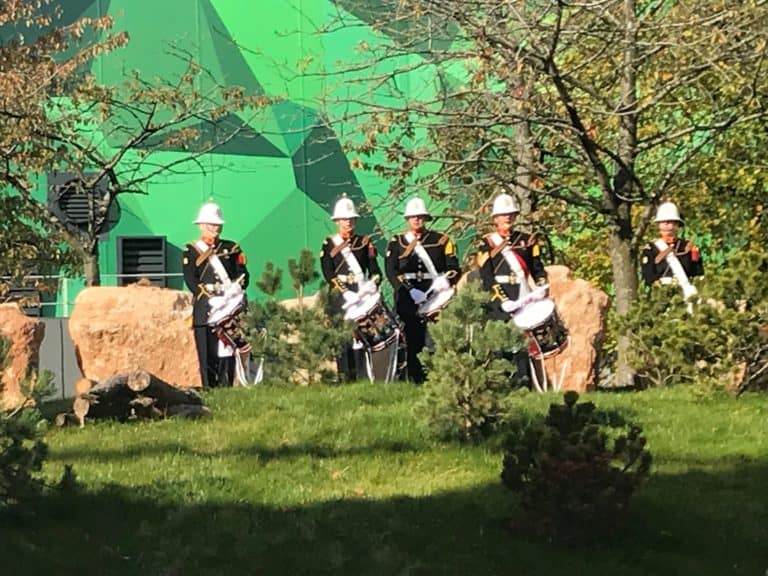 I arrived early and grabbed a coffee whilst waiting to be allowed into the centre. Following a brief worrying moment where the security couldn't find my name on the guest list (it was eventually found under 'Press' – phew!) I made my way to the front of the crowd.  Waiting for the day to begin was an amazing experience in itself, as I found myself in the press-pen chatting to national press photographers, journalists and national TV reporters.
After an introductory speech from Merlin we were treated to a performance from the Royal Marines band.  When they stopped playing a thundering helicopter could be heard and smoke started to pour out from the back of the Chinook high above our heads.  Bear stepped forward flanked by two Royal Marine Commandos, and then they jumped out the back and descended down a rope and though the swirling smoke. 
After Bear's opening speech (which alluded to this being the first of many Bear Grylls Adventure Centres across the globe) we were allowed inside and encouraged to look at the various attractions and activities. 
The deep sea diving zone looked even better than I remembered from my first visit, and with the three divers standing underwater it really put those giant jaws into perspective!
Whilst walking around I sampled a few of the canapés that were on offer – opting initially for a mango and mealworm smoothy! (see my reaction to this concoction in the video below – you can clearly see the moment where those intense flavours kicked in!).
Changes / Improvements
There were a few changes since my first visit and including new additions.
Bear Tags
We were each given a Bear Tag – this device was worn on your wrist and was used to open and close lockers, alert you to your next session, track your progress on the assault course and tag you in photographs.
Hang Gliding Experience
One new attraction which was great fun was a VR hang glider simulation where you navigate an aerial course in a virtual world.  The seat that you sat on moved with the action in your vision which really added to the overall experience.
The survival maze has had a couple of key changes.  The first 
that
 I noticed was during the dark section where you have to help each other navigate through the maze.  The 
guides made a minor adjustment to something to stop you cheating!  This really added to the experience!

Secondly there was a big change to one room. During my first visit there was a section where we collectively were trying to keep calm in a potentially stressful situation and we were tasked with keeping our combined heart rate below a certain threshold.  This concept for an 
experience
 sounds great on paper but it just felt a little flat when it played out 
during
 my first 
visit.  However, t
his time they'd removed the heart rate sensors and changed the premise slightly.  It worked really well and gave a big laugh out loud jump scare – 
which by chance had me as the focal point.  It certainly got my heart racing but was great fun – a really 
effective way of bonding the group together – very clever. 
The next big change came at the second event – the Escape Rooms. I don't know if this was a change due to the creative story telling of our guide or a policy change, but the premise to this scenario when I first did this was that our group had been captured and held hostage.  This worked really well, provided an element of peril and sense of urgency and motive to escape the room we were locked in.  This time around all references to the hostage situation were removed and we were just helping a fictitious team trapped somewhere by giving them instructions.  It didn't really make sense and it was a shame it has changed.  I did wonder if Merlin felt the hostage scenario might remind people of real life incidents or upset some people, but as it currently plays out the story doesn't really work.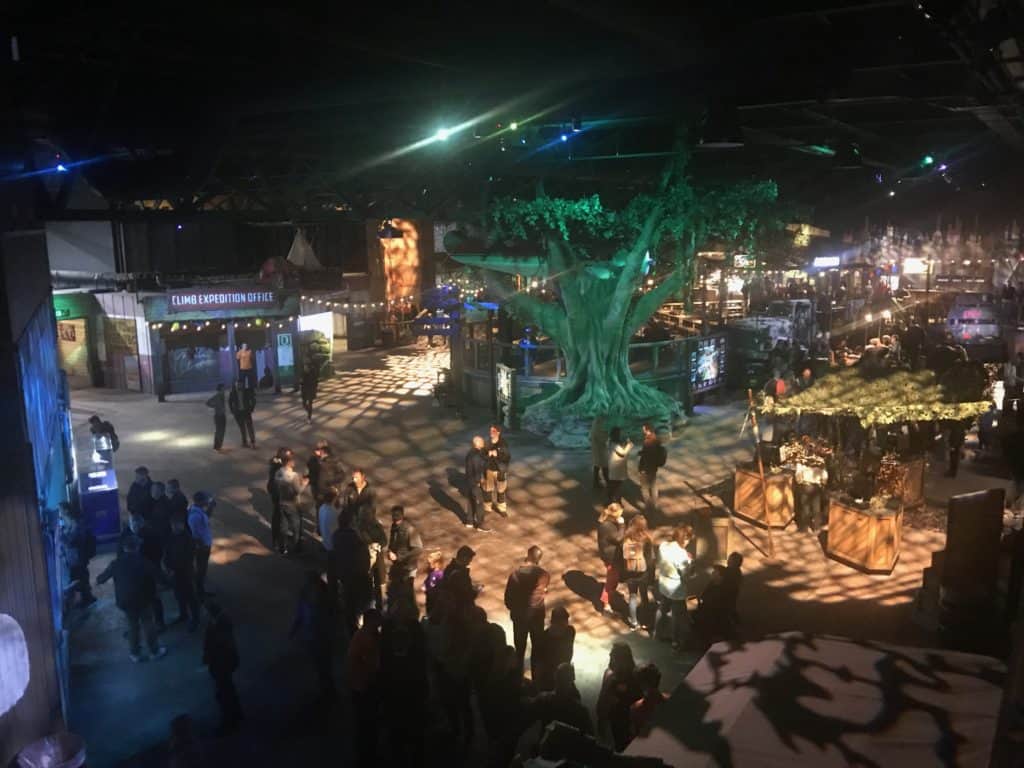 My big challenge for the day was to take on indoor sky diving!  This was now open (it was not quite ready for action in the opening week). I was a little apprehensive about this before I started – I was always useless at things that required balance such as surfing, skateboarding etc.  
However, the instructor was brilliant and I did pretty well!  

Check out 
the
 video below for footage of my first sky dive!  It was great fun and I heartily recommend it!
For video highlights of the Launch Party click on the video above!
The postcode for the Resort World car park that I used today was B40 1NT
I am not affiliated with the Bear Grylls Adventure and do not receive any compensation for use of the 10% Deal above.
What Will Your Next Adventure Be?