Carters Steam Fair
An Amazing Vintage Funfair & Vehicles Collection
Last Sunday I decided to go have a look at the Carters Steam Fair which had arrived at Lichfield in Staffordshire for the weekend.  I had seen the posters advertising the fair for quite a few weeks but I didn't really know what to expect or if it would be something worth visiting.  This wasn't a typical 'day out with dad' as I was on my own, but I happened to be near Lichfield so I thought that I'd make an unscheduled stop to check it out and undertake a recce to see if it would be worth visiting properly in the future.  
I intend to keep this blog quite brief but give you enough information to inform you as to whether or not this is the sort of thing that you and your family would be interested in.  If you'd like to see what the fair looked like and my reaction to the world famous Carters Steamships – check out the short vlog at the end of this article.
What is it

?

Carters steam fair is believed to be the largest vintage travelling funfair in the world. It travels every week of the season and the family and employees that run the fair travel and live in the vintage wagons and caravans that form the perimeter of the fairground.  When the fair is on the move it is transported from place to place by a fleet of highly decorated vintage lorries (often with an official procession of vehicles and trailers at the next destination town).  If you think that some of these pictures look familiar, but you know that you've not visited the fair before, you'll have probably recognised some of the attractions from the numerous films and TV shows that they have featured in – the most recent being the Paddington 2 movie. 
My (not so) quick recce of Carters Steam Fair
From within moments of arriving at the fair it was clear to see just how much dedication and passion goes into the faithful restoration of these rides – the park truly looked beautiful and it was like stepping back in time.  From what I've read the Carters family have a real passion and expertise for restoring vintage vehicles and fairground rides, so much so that if you have a vintage vehicle yourself that you are working on, you can arrange for their advice and assistance with paintwork and restoration if needed.
I intended to just have a quick look around the fair to see if it would be a good day out for myself and my son and so my focus of attention was initially on the children's rides.  I wasn't really expecting much given that the few travelling fairs that I have attended only seem to have one or two children's rides (that's just in my limited experience).  However the Carters steam fair had a large selection of children's rides and also rides for the whole family, in addition to a few thrill rides that the modern day attractions a good run for their money.
So after having a quick walk around, I spotted a couple of larger attractions* that I just had to try out for myself whilst I was there, and my quick trip ended up being over 2 hours long given there was so much to look at.
 (*the Ghost Train and the Carters Steamships – the latter being one of the most frightening rides that I have ever been on! see details below and a link to the ride and my reaction).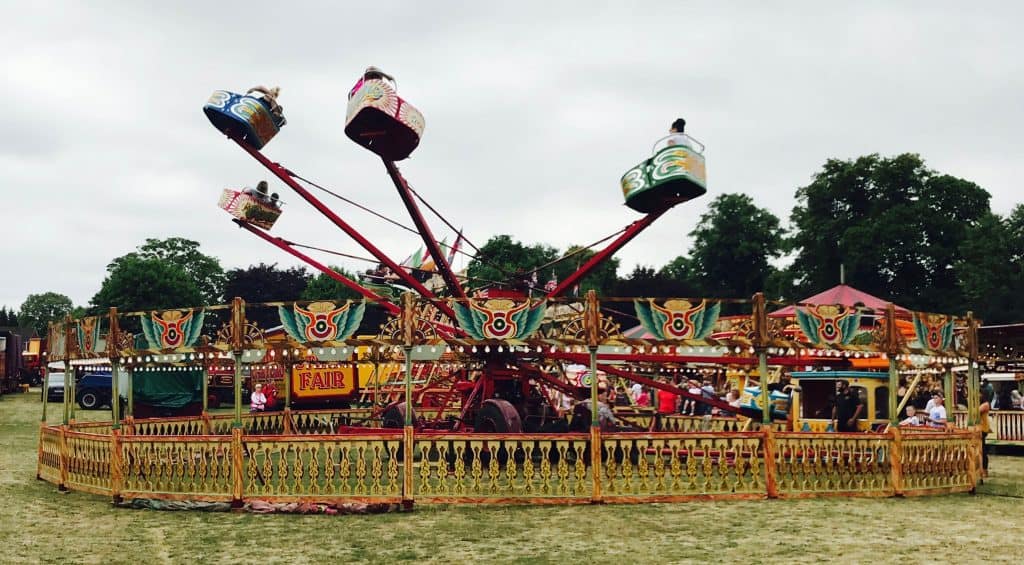 What are the attractions?
A full list of rides and attractions can be found on the official site HERE.
Note – not all of the attractions were at Lichfield as they undertake a rolling maintenance program and some items may have been on loan or exhibiting elsewhere.
The children's and family rides that I saw on Sunday included (not exhaustive):
Steam Gallopers
Chairoplane
Jungle Thriller Ark
Mini Octopus
The Autodrome
Austin Cars
The Train Ride
Swingboats
The Boat Ride
Toy Town
Old Penny Arcade
plus many more (see images below).  
Is it suitable for children?
As you can see from the list above there are many attractions that are suitable for toddlers and families, and I think that a big part of the day is the vintage heritage and atmosphere that is unique to Carters Stream Fair.  Even if you and your family aren't into thrill rides it's well worth a visit 
given that it has free entry and you can just walk around, soak up the atmosphere and 
enjoy looking at the vintage rides, vehicles and artwork.  Just keep in mind that this is a vintage fairground with loud equipment, music and generators.
My Experience
Carters Steam Ships
Imaging sitting on a park bench with no restraints.  Imagine being tilted vertically and then swung vertically the other way – that's the world famous Carters Steamships ride.  Take a look at the pictures above and you'll have an idea what this is about.  Just to make it clear, let me repeat myself – there are no restraints – you either hold on as shown on the sign, or you'll basically have the same experience as that washing liquid ball when in your washing machine, but instead of fluffy towels, you'll be banging against wooden benches and fellow riders.  Check out the video below to see just how terrifying this is (I'm writing this three days after riding and my arms are still sore – but I feel like I've earned those bruises!).
The Ghost Train
I also went on the Ghost Train which was an absolute classic and contained a number of good jump scares and you even get soaked with a blast of water. Note that the ghost train is very dark and contains some very loud noises and I really do mean loud, so I would be wary about taking very little children on.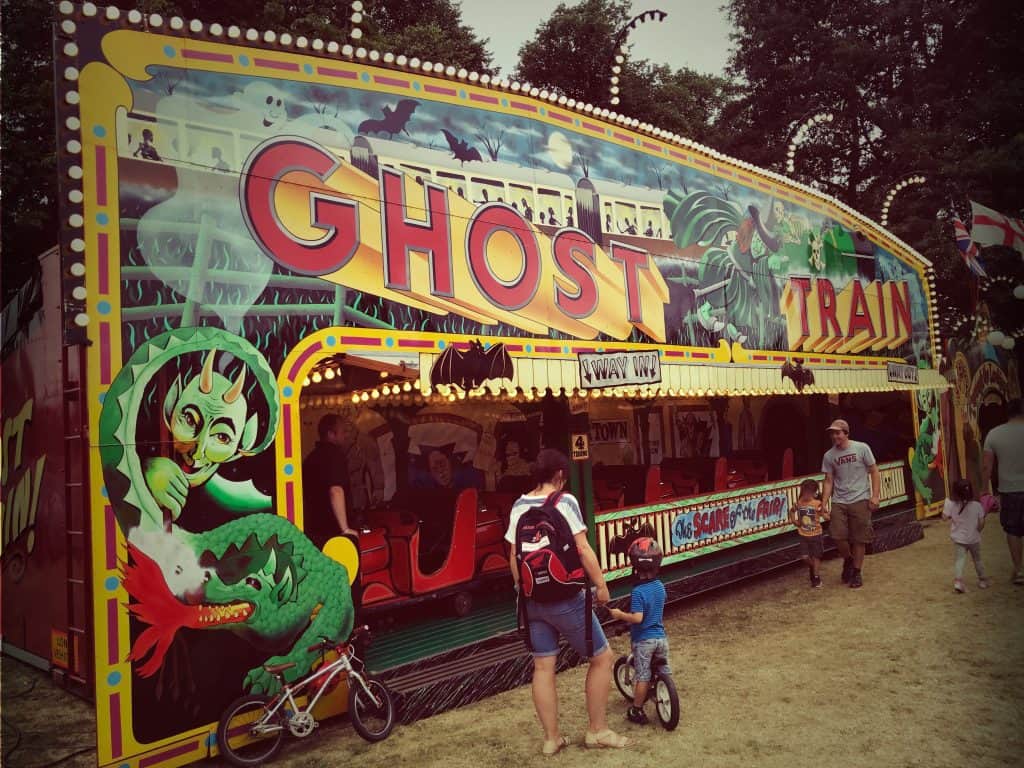 How Does It Work
The fair operates on a token system with tokens costing 50p each.  Most rides worked out at £2 per person, with a few being £2.50 and £3.  You can purchase your tokens via automated vending machines dotted throughout fair or from the main ticket office (which took bank cards).  If you plan on going on lots of rides or have a large family, it may make sense to pre-book your tokens online as this gives the best value for money, with the greater savings being offered at the highest tiers.  
At the time of writing these are the online token prices:
40 tokens + 3 FREE RIDES!    £20.00  + £1.00 booking fee
60 tokens + 5 FREE RIDES!    £30.00  + £1.00 booking fee
80 tokens + 7 FREE RIDES!    £40.00  + £1.00 booking fee
Merchandise
Having now read up a little on the history of the fair since visiting it is clear that it is well loved by a huge fan base.  The official website  even has a merchandise section which includes books on the history of the fair, T-shirts, mugs posters and other memorabilia.
From browsing various sites it's clear to me that a one of the key things that attracts people is the incredible vintage artwork and during the closed season you can even attend a five day residential course with the Carters family to learn the art of vintage signwriting – more details can be found on their website.
Pros
1. Plenty of rides for all ages
2. Heritage and History – stealth learning!
Be mindful of
1. Some of the attractions can be very noisy
2. Keeping a calm composure in front of your children on the Steamships might prove difficult! 
Charlie's Ice Cream Rating 
To be confirmed when we next visit!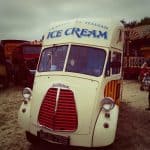 What Will Your Next Adventure Be?