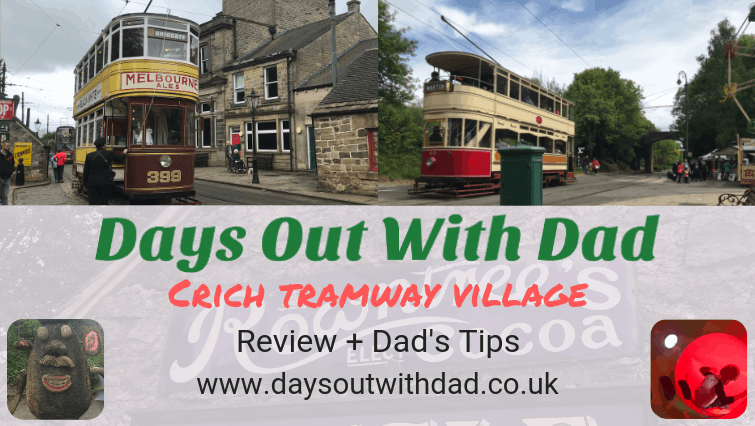 Crich Tramway Village Review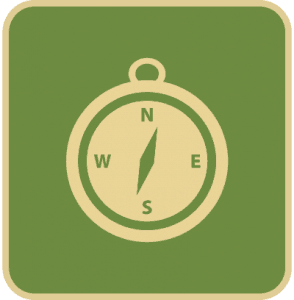 Over the last Bank Holiday weekend I had a day out with my son to the Crich Tramway Village in Derbyshire.  It was a spur of the moment visit and we were pleased to find out that there was a special event on which was celebrating the Great British Seaside.  So with a picnic packed and a flask of coffee for the journey we headed out for an adventure in a bygone time. Read on to find out about this living history village, why it's not just about the trams, and how many doughnuts we ate!
What is it

?

The Crich Tramway Village (formerly the National Tramway Museum) is a living Museum that takes you back in time by recreating an old settlement with an authentic vintage pub, a vintage tea room, an old fashioned sweet shop, vintage equipment and machinery, and of course lots of trams!  There are over 60 different trams at the museum that were built and formally operated all over the UK (with some coming from around the world) including Blackpool, Chesterfield, London, Glasgow, Berlin, Johannesburg and Sydney.  On any given day there are usually a minimum of three trams operating that will take you on a journey back in time through cobbled streets, past a former quarry and lead mine, and out onto a hillside with spectacular views across the beautiful Derbyshire countryside.
Our Day
We set off in good time (having only taken an hour and a half to get out of the door – good going for just myself and Charlie!).  The journey from the Midlands was easy, straight up the A38 before turning off towards Matlock – a journey we've made many times on days out to the Peak District National Park.  Fitting for a British Seaside weekend, the weather looked very changeable and so we ended up packing jumpers, raincoats as well as suncream and sun-hats!  
Following the tourist information roadsigns we eventually made our way up to the village of Crich on the edge of the Derbyshire Dales where the museum is located.  The village was very pretty and the narrow steep streets that wound their way up the hillside gave you plenty of opportunities to admire the local building styles whilst waiting for oncoming traffic to pass.  I've since found out that this area provided the setting for the fictional village of 'Cardale' featured in the popular TV series 'Peak Practice'.
Soft Play Centre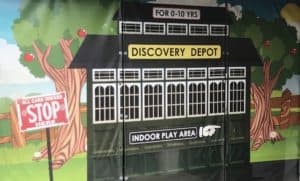 Recalling a previous visit, I remembered that at the start of the day most visitors head straight for the main tram stop in the old town area, and as predicted the queue to get on the first trams was pretty long.  I remembered that if you let the first few trams go, then you can pretty much just walk straight onto the others throughout the rest of the day. Therefore to the delight of Charlie we first headed to the indoor softplay area, as I anticipated this getting very busy later in the day.  It was a good idea as we had the place to ourselves and I was able to drink my coffee that I'd made at home for the journey (but which I'd left in the boot by accident!).  The softplay area was compact, but made a great use of the space available, and there were quite a number of chairs and tables for adults to sit at and enjoy a drink or snack from the vending machines (this would also be a good location for a picnic on a rainy day – albeit pretty noisy and chaotic no doubt).
Riding on the Trams 
By the time that I had persuaded Charlie that he wanted to leave and go and look at something else, the queue for the trams had diminished to just a couple of people, meaning that we were able to get straight onto the next tram.  After finding our seats upstairs we started our journey through the historic landscape.  After a short duration the conductor made his way through the tram checking for tickets.  This was our first ride of the day and so we had to give the conductor our old pennies (which were given to us when you entered the museum) to 'buy' an all day ticket.  This was then shown to each conductor on our subsequent tram rides (you can ride as many times as you like throughout the day which was great fun and meant that we got to have a go on each tram in operation during our visit, plus we built up a collection of vintage tickets, as we were given one each time we made a journey).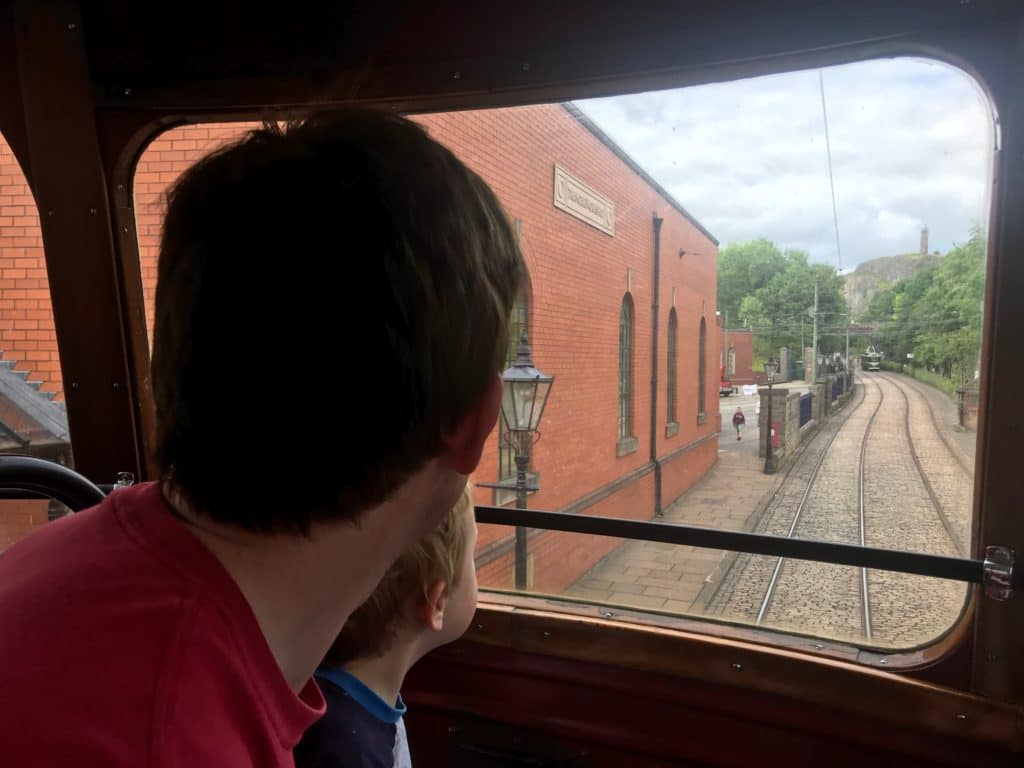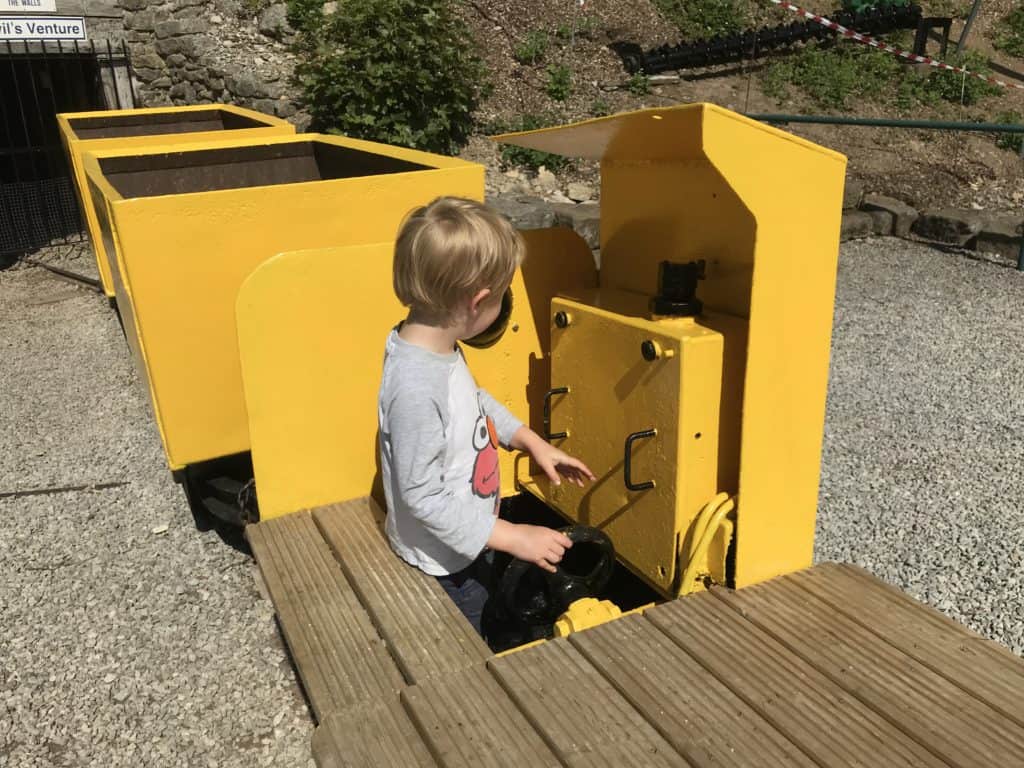 Wakebrdige Mine
On the way back we stopped at the Wakebridge mine area and ate our lunch in a shelter, as at this point in the day the weather was still quite cold and wet.  It reminded me of some of my holidays when I was a boy, eating a packed lunch in a shelter in the middle of a forest in Wales, or on a bus on the Isle of Wight!
Woodland Walk

Following our lunch, the weather started to brighten up and we went for an explore through the Woodland Walk.  This was great fun and included many surprising features that I did not realise were here.  Firstly we found some amazing sculptures – wizards, trolls, magical book cases, treasure chests, a giant Mr Potato Head and much more. Charlie loved the fact that there were multiple paths and routes to take which made it more interesting and rewarding as you had to find each sculpture.   One of the paths we took led us to a secluded viewpoint across the valley offering spectacular views.
Along the woodland walk we found an interesting shelter that had information about different tree species – this was really interesting as I was only saying to my wife the other day that I should learn how to identify different trees so that I can teach Charlie.  So we took a few pictures on my phone of the various information sheets and then headed out to try and find some of the trees.  We spotted a few and then got distracted by a huge field with lots of wooden activity points, including a game of draughts, giant stacking blocks, letter blocks to spell words and creepy looking monsters in boxes!
Labyrinth Picnic Area & Adventure Playground
After playing here for a while we made our way to the Labyrinth Maze which was great fun running around in and climbing over the rocks.
We then walked along a nice wooded path looking for more trees that we could identify before we found the adventure play ground.  This was another pleasant suprise as the playground was well spread out, contained a good variety of play equipment for all ages, and was in a contained area which restricted where the children could run off to.  We played here for while – the favourite game of the day was running across a bridge over a dry river bed where a troll (Dad) was hiding and trying to catch Charlie (and a host of other children that also wanted to join in!).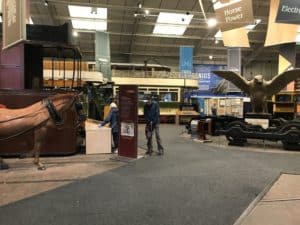 We had a drink and a snack and then headed to the indoor museum to get out of the sun for a while – as the weather had changed from cold and wet to dry and scorching!.  The museum was another surprise hit with Charlie as it featured quite a few interactive exhibits such as colouring, designing your own tram from the template components and figuring out the electricity supply puzzle with leads that was reminiscent of an old switchboard.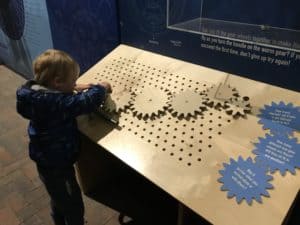 We also had a rest in one of the very old trams that you were able to go inside – this had very springy seats which were surprisingly comfortable, and so we 
relaxed and watched a video on the screens about Blackpool trams.  
After a much needed rest we headed out to enjoy some of the Great British Seaside Event.
Great British Seaside Event 
The seaside event was really well put together and featured classic vintage steam fairground attractions such as a ferris wheel, organ and a carousel.  
There was a traditional flea circus, an organ grinder with a monkey puppet, a sand pit to play in (simulating the beach), a punch and judy show, brass bands in the band stand, face painting, bingo, and stalls selling hot dogs and doughnuts.  
We listened to the band for while whilst Charlie had an ice-cream and I enjoyed four hot doughnuts (on a hot day – I know – it doesn't make sense, but they tasted marvellous and reminded me of a scorching holiday I had with my family and my Nan in Anglesea, where each day we'd walk up the beach to the prom and grab a cold drink and a freshly cooked sugared doughnut from a local seafront shop!
Pros
1.Interesting and fun day out for all ages (including well behaved dogs).
2. Aspects that you can enjoy on a wet day such as the indoor museum and having lots of rides on the trams.
3. Good Value Admission Prices: 
Adult £17.50
Senior (60+) £14.00
Child (4-15 yrs) £10.50
Family (2 adults / 3 children or 1 adult /4 children) £40.50
Disabled Visitors
Adult £11.00
Senior (60+) £11.00
Child (4-15 yrs) £7.50
Entry fee allows access for 12 months with just a few exclusions* (*Free return admission on full price tickets only (including Adult, Senior, Child and Family tickets). Does not apply on re-entry to 1940's / World War II events and refers to the 12 month period from when you purchase your full priced ticket and available during public opening dates only.
Be Mindful Of
1. Queue times at the start of each day can be busy for a ride on the trams – head for the softplay or museum first if you see a long line at the village tram stop, or take a walk up through hotel adventure park and woodland trail first.
2. The specially adapted accessibility tram only makes two journeys per day – at the time of writing these operate at 11.30am and 2.30pm on request.
3.Limited indoor picnic areas if the weather is wet.
Charlie's Ice Cream Rating 

3/5
They did have a nice section of ice creams but Charlie just wanted a standard frozen fruit lolly.  Next time we go we'll try the Matlock Meadows local ice cream and hopefully update this score!
What Will Your Next Adventure Be?