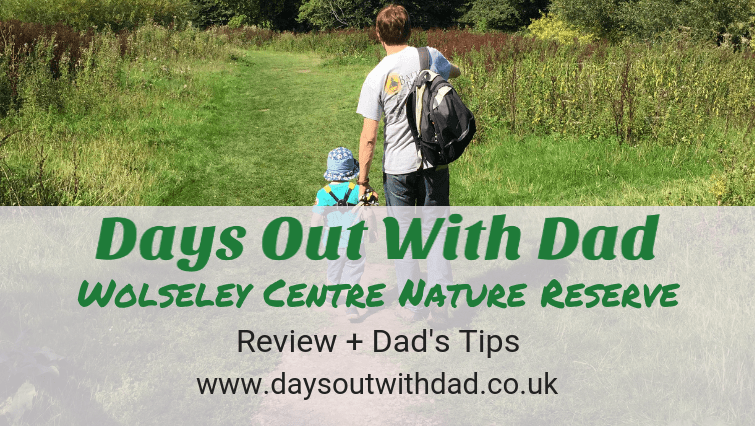 The Wolseley Centre Family Day Out Review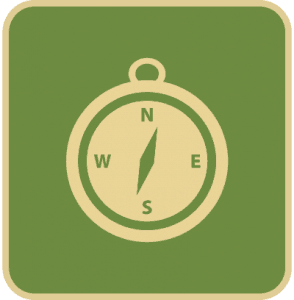 A Visit to a Staffordshire Wildlife Trust Centre
A few days ago we went to the Wildlife Trust Wolseley Centre near Rugeley in Staffordshire.  Harry had previously been to a number of toddler activity sessions and so I wanted to go along myself and see what it was all about. However before we get into the details of our day out, here are the basics:
What is it

?

The Wolseley Centre is the headquarters for the Staffordshire Wildlife Trust and is also a wildlife visitor centre.  It is free to visit and is located near Rugeley on the edge of Cannock Chase.  It is set within 26 acres of beautiful grounds and criss-crossed by a network of accessible footpaths and boardwalks – many of which are ideal for pushchairs / wheelchairs plus there are activity points, sculptures and wildlife features located around the trails.

 

The Staffordshire Wildlife Trust was founded in 1969 and is the county's leading nature conservation charity. Their mission statement is "to protect and enhance the wildlife and wild places of Staffordshire and to promote understanding enjoyment and involvement in the natural world".
Our Day
We arrived at the centre just before lunch time and already the car park was quite full. It was a lovely sunny day and it appeared that lots of other people had decided it was a perfect day to visit!  Parking wasn't a problem however as there is a large overflow space on the grass at the edge of the drive into the centre.
After making a donation as suggested (in place of a formal car parking fee) we headed inside to have a look at the noticeboard to see if there were any events on that weekend. The two activities that caught our eye were the bug hunting trail and bee trail (both maps and activity sheets could be purchased for a small charge).
Armed with our free site map we headed out to the boardwalks and started with the Kingfisher Walk nature trail (I have provided a link to a detailed map at the end of this blog or click on the map image above).  The boardwalk passes over a number of pools where we saw dragonflies, ducks and a wide variety of birds.  A number of families were feeding the ducks with a special food mix that could be purchased from the gift shop. Halfway around the boardwalk there was a nice seating area next to the River Trent. We stopped here to watch some birds and also a bee that was moving from flower to flower. The bee flew off towards the river and dipped down just as a fish rose which caused the water surface to ripple.  Harry was convinced that the bee had "gone for a swim daddy – he likes to swim"
After doing a lap on the boardwalks we headed out on the Riverside Walk to find a nice spot for a picnic.  The path follows the bank of the River Trent and we soon came across a few wooden benches that was the perfect spot for lunch. However, we were quite close a tree stump stepping / balance activity, plus there were large carved hollow wooden fish that you could hit with a stick like a drum or play it's metal fins like a xylophone.  Harry love these and it was tricky getting him to sit back down to eat his sandwiches.  Lesson learnt – pick a lunch spot away from the percussion equipment
It was a beautiful day, the sun was shining and there were lots of narrow boats travelling on the canal which ran alongside the River Trent on the opposite bank to us.  On the river there was a large number of Canada geese frantically flapping their wings and generally creating quite a commotion which Harry loved.  Harry asked if they were "having a bath". I said that they were but I'm not actually sure?!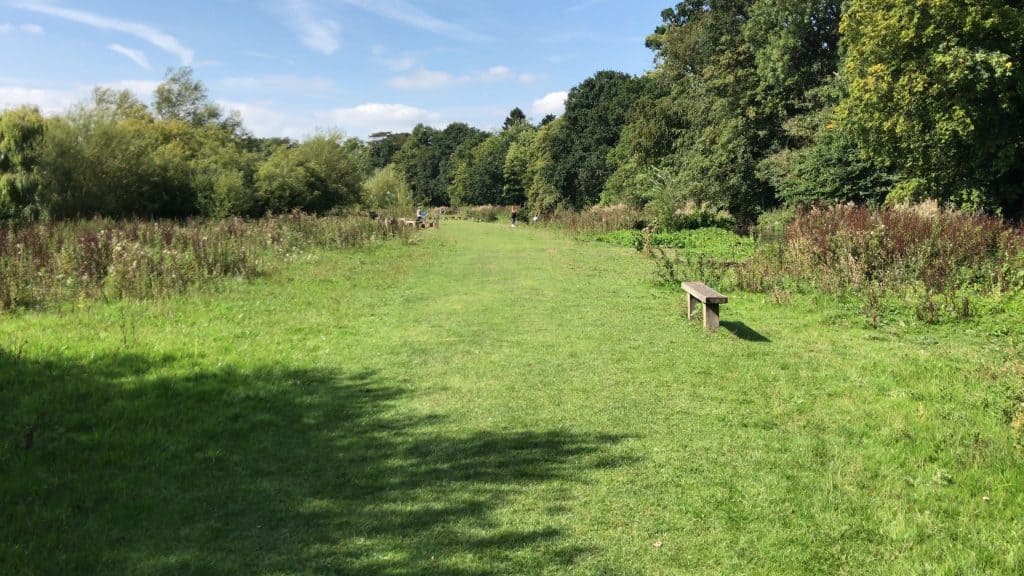 After lunch and much fish-banging we carried on along the riverbank before turning away and heading back towards the visitor centre.  My wife noticed at one point where you cross a small stream that recent work had been undertaken to make the footpath more accessible – as there was now a ramp section with the old steps blocked off.  The paths were generally in a really good condition and could accommodate buggies or wheelchairs.  We soon came to an area where you could build your own den.  This was great fun and you just used the provided sticks and logs and reseeded them against the trees.  Simple fun but it kept Harry entertained for ages – although he seemed to always want to lift the biggest logs he could find!  
Despite the great den building Harry suddenly remembered the "splashy bridge" and that was all he could then think about.  However, whilst he was still dry we decided to extend the walk just a little by following the Temple Lake Trail.  This path takes you around the Temple Lake which has a number of interesting features along the way.  At the far end of the lake (closest to the entrance drive) there is a small footbridge where we played Pooh sticks.  Harry won fair and square with my stick getting stuck in a bush, and my wife's stick lagging slowly behind.  I say fair and square but thinking about it Harry threw all three sticks into the stream so maybe he gave his the edge?!
We then headed back to the visitor centre walking through the sensory garden where there are a number of plants that stimulate your sense of smell, taste, touch, sight and sound.  Harry particularly loved the bug hotel.  From here we followed the play trail where we encountered a number of really interesting sculptures, rocks and other features that you could interact with including a giant spider web swing.  However the highlight for Harry was the splash bridge.  This is a bridge with a slightly submerged deck which allows the water to flow over the top.  To cross it, you have to splash through the stream in order to get to the other side – just like a ford that you might drive your car through.  Harry loved this and ended up getting pretty wet!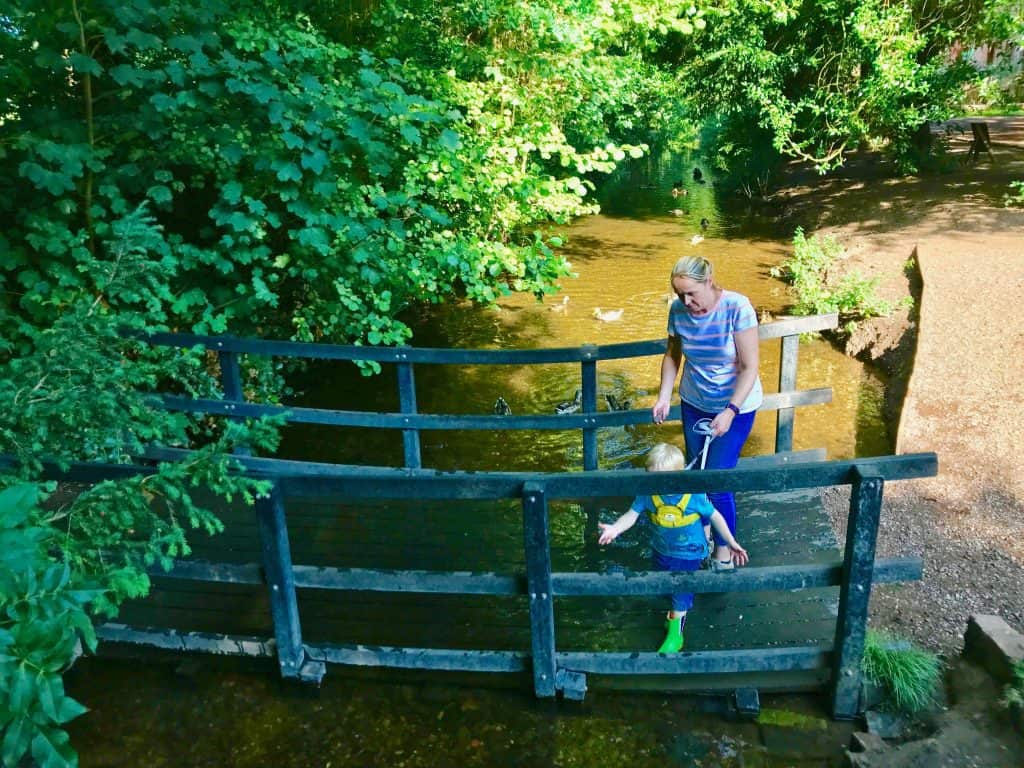 There are a number of regular organised events that take place at the centre.  At the time of writing the events that are coming up include a Fungi Trail, a Pond Life Trail, Wildings, Nature Tots, and Wildlife Walks.  
Harry has attended a number of these and loves them.  He often comes back with an outdoor / nature craft 
item
 that he's 
built – t
oday 
it was a bug hotel to place in the garden.
How Much Does it Cost

?

The Wolseley Centre is free to visit but a donation is asked for to park.  
Facilities
There are toilets and baby changing facilities at the main centre building.  There is also a nice
 gift shop that 
sells a good 
range of books, and wildlife themed gifts including some lovely things for your garden.  The shop also sells 
hot and cold drinks, plus cold snacks.  Just to the side of the shop is an indoor seating area where you can have your food and drink if the weather is poor.  
If you are after a more 
substantial
 meal, 
then the 
Wolseley Bridge Garden Centre is just a short walk away that has a good cafe serving a range of hot and cold food.  There is also a pretty good soft play centre here that Harry enjoyed 
running
 around whilst we had a coffee.
Opening times for the Wolseley Centre are from 9am to 5pm Monday to Friday, and 10am to 5pm on Saturday and Sunday.  Bank holidays are 10am to 5pm.  However, do please check the website before you set off in case the times have changed.  At present their website does not give any indication as to the opening hours over the Christmas period, but I am sure that nearer the time they will be updated accordingly.  
One final thing – for those of you that have dogs – you can take dogs into the centre but they have to remain on a lead at all times. 
Pros
1. Free Entry – they just ask for a donation for the car park.
2. Educational, fun, relaxing and great picnic spot!
3. There are toilets and baby changing facilities and you can purchase hot and cold drinks & cold snacks directly at the centre.  If you want a hot meal then the garden centre next door has a good restaurant / cafe (and a soft play!).
Be Mindful of
1. Some of the paths can get very wet and muddy at times – wellies for little ones are recommended – with a change of shoes to keep your car clean! 
2. No hot food for sale at the Wolseley Centre itself.
3. The car park shuts at 4:15 – but you can park outside and walk in.
Harry's Ice Cream Rating 

We can't give a rating at this time as Harry had quite a lot to eat at lunch on the picnic and so we bypassed the 

ice-cream

 stand – but we'll be back at some 

point

 in the future!
The postcode for the car park is ST17 0WT.  Note that the car park closes at 4:15 PM although you can park outside the gates and walk around the grounds still.  The centre is accessible by public transport and you can catch a bus on the 825 route between Stafford and Rugeley.  I believe that this service runs twice an hour although you please do check timetables before setting out on your journey.
What Will Your Next Adventure Be?