Carters Steam Fair Review
Carters Steam Fair Review
A few weekends ago we spent the day at the Carters Steam Fair in Lichfield, Staffordshire. Read on to learn all about the fair, the rides they have, if it is suitable for a family day out, the cost and not forgetting Charlie's all important ice cream review!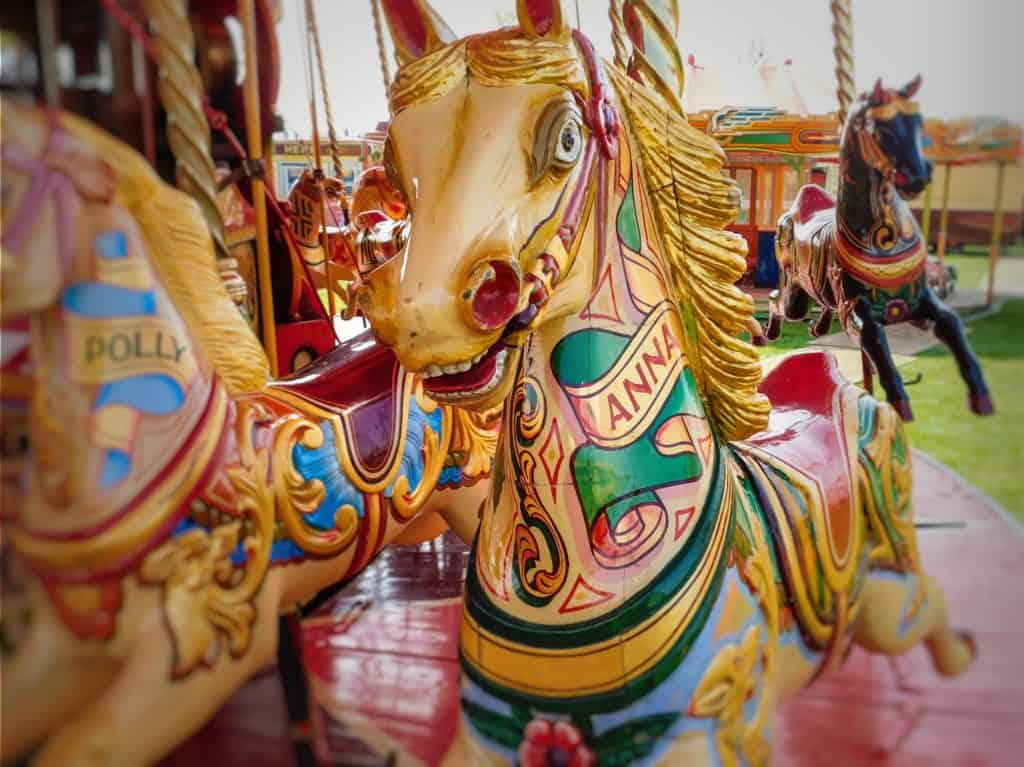 What is it

?

Carters Steam Fair is believed to be the largest vintage travelling funfair in the world. They have rides & attractions for all the family ranging from little kiddie rides through to big thrill rides – fun for all the family!

For the last 40+ years, the Berkshire-based Carters family have been rescuing heritage fairground vehicles and rides from all over the country and restoring them at their yard in Maidenhead. Throughout the summer months they take their vintage fair on tour around the south east of England, London and a few other UK locations.  Between each location, the attractions and caravans are transported by a fleet of highly decorated vintage lorries (often with an official procession of vehicles on the first day at each new destination – which we watched this on the Saturday – the day before our visit to the fair).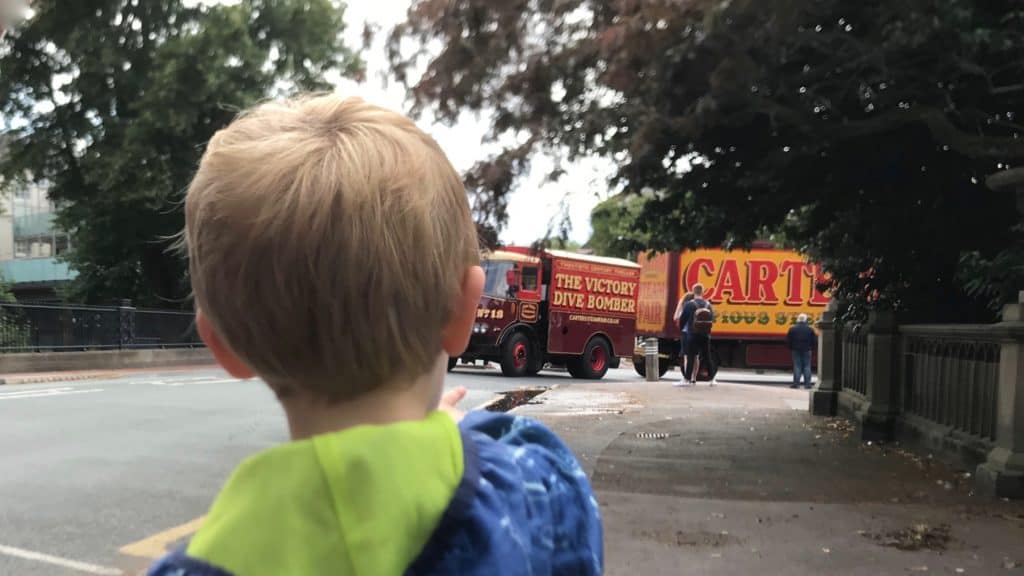 Waiting for the Carters Vintage Vehicle Procession  
Visitors to the fair get the chance to experience unique vintage rides dating from the 1890s to the 1960s and they can enjoy classic side-stall games like Hook-a-Duck, the Coconut Sheet (also known as the Coconut Shy) and many more. If you think the fair looks familiar you're probably right: it's been featured in Oscar-winning The Theory of Everything, Paddington 2, Call the Midwife, the Netflix series Fairground Attractions and various other pop music videos and shows.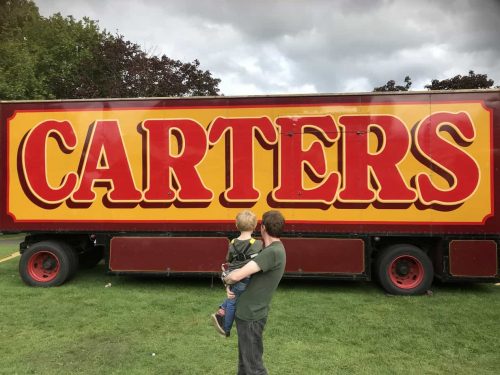 Our Day
I had previously been to the steam fair at Lichfield back in 2018, however that was just a quick look around by myself as Charlie and my wife were visiting grandparents for the weekend. Knowing what to expect this time I made sure that we kept the weekend free for a visit as I knew that they were in for a real treat.
We arrived in Lichfield early in the morning and we headed to one of my favourite coffee shops (Melbourne) to grab a drink before I walked through the beautiful Beaon Park to the fair for the Historic Tour that I was booked onto (as a side note if you've not visited Lichfield before then check out the links at the end of this blog post – it's a lovely historic city, and the park and play area is amazing).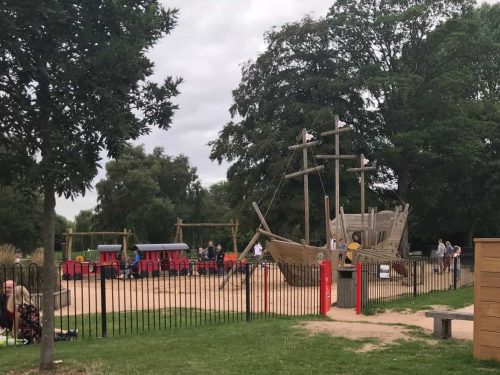 Fairground Art & Heritage Tour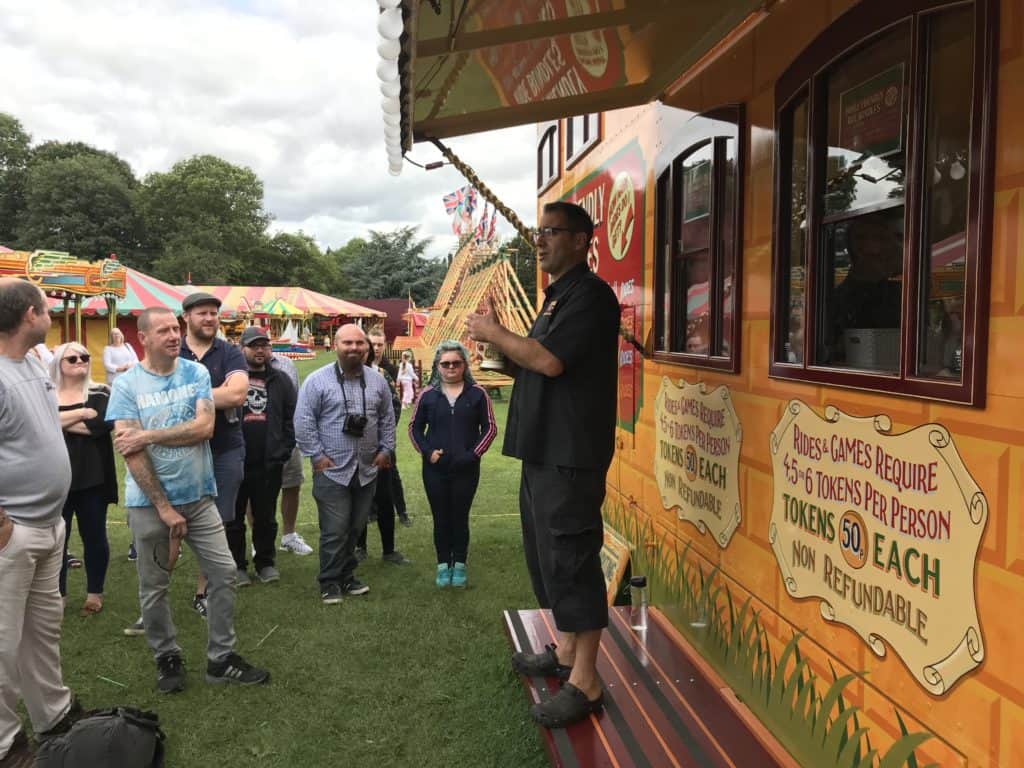 The fair was earily quiet when I arrived and it had a strange pensive atmosphere, like a coiled spring ready to burst into life, as in just a few hours it would be filled with sounds of the engines, machinery, screams and laughter.  As I walked past the motionless rides staff were starting to emerge from the vintage caravans, crossing the showground with mugs of steaming drinks. It was really peaceful and all you could hear was the birds singing and the rhythmic thump of mallets on wood as ride support blocks were checked at the Steam Ships.
I was pleasantly surprised at the large numbers of people that were booked onto the tour and it was great to see such a wide age range.  I wondered if the children had just been dragged along by enthusiast parents, but during the talk it was clear that the majority of the children were listening intently to fairground owner Joby Carter and his tales which brought the history of Carters to life.
Many of the vehicles are found in a dilapidated state, and Joby and Georgina Carter work with their team to make them road worthy and to repaint them in a traditional fairground style.  Joby says that "we are technically a family of artists and the fair is our canvas, we hand paint everything using traditional methods keeping everything as you would have found it when new."  
Everything on the fair, including the rides, vehicles and caravans are painted by hand in designs that are faithful to how they would have originally looked.
I'll write a separate review and summary of the talk and give you a flavour of life on the road, the history of the rides, the complexities of restoration and the beautiful artwork. The tour lasted approximately 45min, by which time the fair had started to fill up with people waiting for the official opening.  If you are interested in the talk I've added a link at the end of this blog.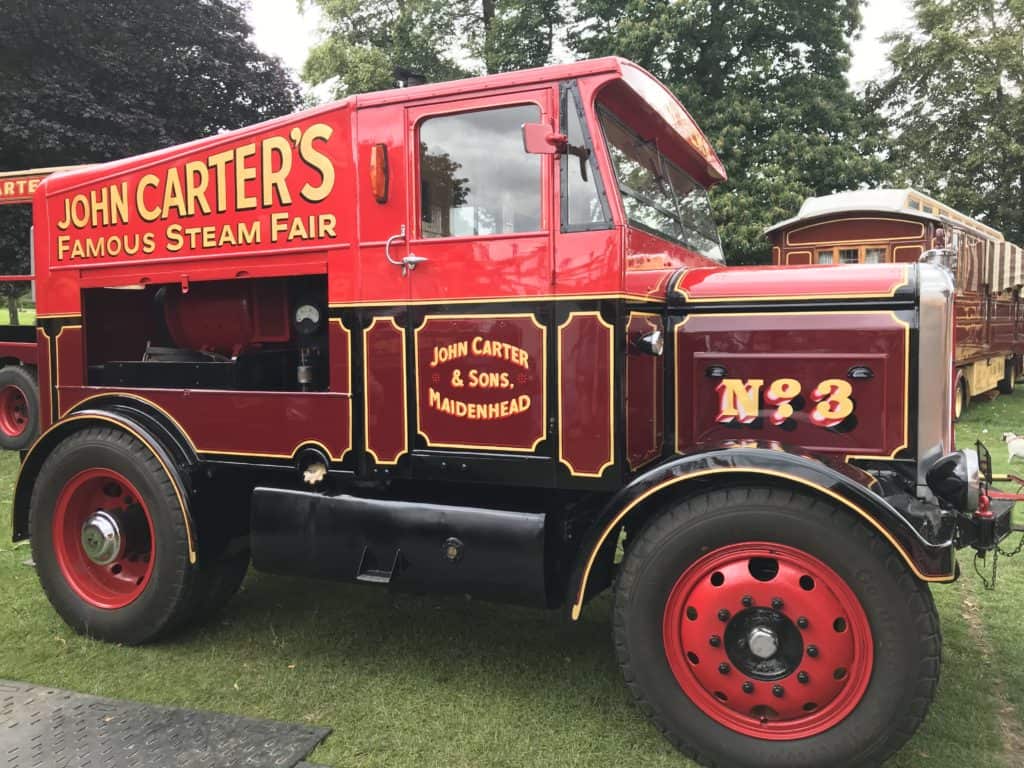 After the tour I met my family and we headed to the main ticket booth to get our tokens (as the ride attendants don't accept cash – more on this system and the costs a little later).  The queue for the tickets was quite long when the fair opened, but the staff were efficient and the line moved quickly.  Tokens in hand we headed for the little train that Charlie had spotted and was eager to get to. 
Children's Rides

Charlie (like a lot of toddlers) loves all things trains and this green engine reminded him of the Talylynn Railway in Wales which he loves.  I joined him on the first ride to check how still be could sit (and because I wanted a go myself as it reminded me of a seafront ride that I used to go on when I was a toddler during family holidays in mid-Wales).  The first ride of the day was a success although Charlie was mostly interested in how it worked and was powered rather than pretending we were on a real train!  It was great to see such a wide selection of children's rides that allowed adults to accompany them on, as this creates a shared memory rather than just passively observing from the periphery.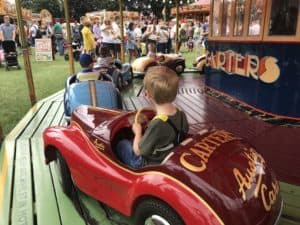 After the train we headed to the beautifully styled vintage racing cars which Charlie loved and I think that he was genuinely trying to steer correctly!  Following this he wanted to try the vintage boats and then he went for a spin on a tractor which formed part of a vintage toddlers merry go round.  
One thing that I was pleasantly surprised by was the duration of rides – they all had pretty long ride cycles which was great for both the children and parents (we noticed a few Moms and Dads managing to get a few uninterrupted sips of coffee whilst their children were on rides – myself included!).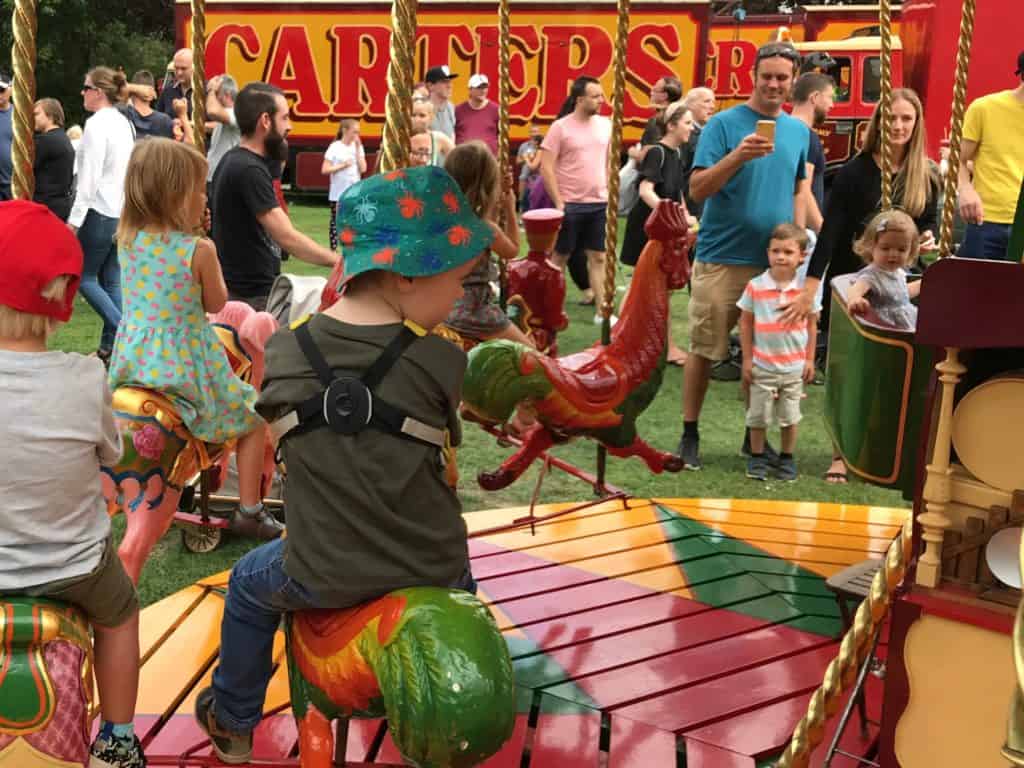 Some of the smaller rides were suitable for children only and I must admit that I was a little aprehensive about Charlie going on them by himself, given that he doesn't like sitting still for too long!  However, he behaved really well and sat on the rides and didn't try to climb off whilst they were in motion.  However, given that you were able to stand pretty close to the children's rides, if there was an issue with a little one starting to fidget then you could easily get their attention and tell them to behave, or that of the ride operator if there was an emergency.  Talking of the ride attendants, everyone that we met on the day was courteous and helpful and were also doing a great job of watching the rides.  I've been to theme parks before where attendants have a glazed-over bored look and clearly not watching things as carefully as they should be, however, on our visit to Carters Steam Fair this wasn't the case at all.  The attendants on the small Children's rides in particular were often looking out for anything out of the ordinary and stood by the controls for the duration of the ride.  This was reassuring to me and I'm sure other parents as well.
Our First Family Rides & Lunch Time
When we were confident that Charlie was enjoying the rides and behaving himself we decided to try out some of the larger family rides.  We went for the Lost Ark first which tuned out to be a lot faster than it looked – and I really do mean a lot faster (just check out the video at the end of this blog to see it in action).  Charlie did really well though and whilst I'm not sure he enjoyed it that much at the time, he has since been talking about it and saying things like it was 'really good because it goes really fast'!  I  particularly enjoyed it as it had old rock and roll music music playing as we were whisked around and up and down on our jungle adventure!  Following this ride we thought that it would be a good time to grab a drink and some lunch, stopping off to watch a few people at the Coconut Sheet on the way.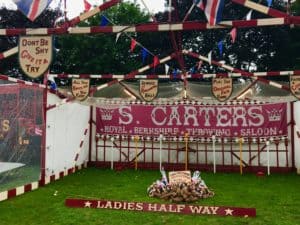 We had already made a picnic at home which we brought along as we were not sure what food there would be to eat at the fair.  However, we did notice that there was a good selection of hot food which another time we'll have to try.  We found a nice spot under a tree and ate our lunch, soaked up the atmosphere and people watched.  As a treat, we had a bag of candy floss after our sandwiches.  This was the first time that Charlie had ever experienced candy floss and he was very skeptical at the start and it took a lot of persuasion to get him to try it!  I wished I'd had filmed his reaction as it was hilarious – the change of expression on his face was fantastic, gradually morphing from a screwed up grimace through to a wide-eyed big cheeky smile – swiftly followed by his little hand darting for the bag to grab some more!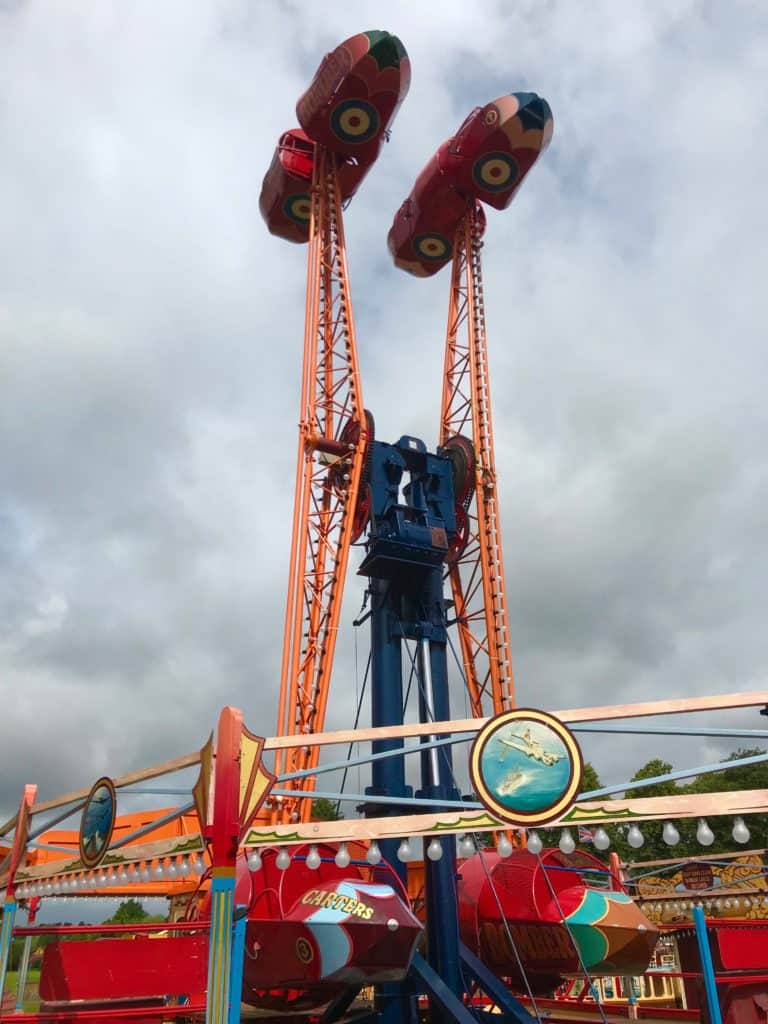 The Victory Dive Bomber! 
After a bathroom break to the nearby public toilets in Beacon Park (just a short walk from the corner of the park where the fair was located) it was back onto the rides, and I was feeling brave enough to try out the infamous Victory Dive Bomber!  As soon as I saw this ride stretching out above the tree-line whilst walking to the historic tour I knew that I had to give it a go.  Now I do love a good roller coaster, but I must admit that I'm not a massive fan of heights or things that spin – so I was quite apprehensive about going on this.  Squeezing into the seat, the attendant clicked a small lap-bar in place, closed the door and we were off!
There was a bar in front of you just above head height which you could hold onto to support your body, as well as extending your legs outwards to brace yourself for the twisting and spinning.  Check out the video at the end of this review as I took my chest-mounted camera along for the ride so you get a point of view experience and you can see what it's like to ride this classic!  It wasn't as 'spinny' as it looked, but it was intense.  For some reason going backwards seemed a bit faster and the drop backwards from the top, coupled with that rotation of the vehicle you sat in was a unqique and crazy experience.  It certainly gives modern day rides a run for their money!  
Afterwards we (I) deiced to have a sit down and it seemed like the perfect opportunity to grab an ice cream, sit back and soak up more of the sights and sounds (and screams from the Diver Bomber!).
Vintage Vehicles
We extended our break from the rides and went for a walk around the fair to look at the vintage vehicles and caravans.  It was a great opportunity to see these up close and admire how they have been lovingly restored (that goes for the rides as well).  The artwork, painting, carving and metalwork on each attraction and vehicle was amazing to see and we spent a lot of time admiring them.  Walking around it felt as if you had stepped back in time.  I've visited a number of living history museums previously, and whilst they did a fabulous job of making you feel like you were in a different age, what made Carters feel so unique and special was the fact that you knew that these vehicles were still part of a way of life, and that the classic Scammell Showtrac, for example, is still doing the job it was intended to do when it was originally built in 1946.
Penny Arcade & Game Stalls
Sticking with the theme of vintage equipment we headed to the old penny arcade, and after exchanging a few ride tokens we were given a handful of old pennies to play the games. Charlie made a beeline for the vintage grab-machine, but unlike modern day equivalents you could actually win on this quite easily which he was absolutly thrilled with (see the video). We also played a few games of skill; one where you had to navigate your coin around a maze by turning a wheel, another where you fired steel balls around a loop and had to try and land them in the winning holes.  We were fortunate to win a few coins which increased our playing time considerably.  One thing to note was that at times the Penny Arcade was quite busy, and there is little room for manoeuvre, however we noticed at other times of the day it was fairly quiet, and so I'd recommend that you are flexible, walk past it a few times and just try and pick a quiet moment.
With Charlie in the mood for winning more prizes we headed to the Hook a Duck game which was great fun.  Charlie did this all by himself and was thrilled when he finally managed to hook one – just as I was starting to get concerned if I had enough time on my car parking ticket – but he got there in the end!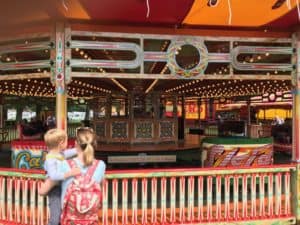 We had been at the fair for most of the day by now, and so we headed back over to The Skid to see if the queue was a little shorter, however it was even longer than earlier and we heard the attendant announce that they weren't allowing single riders to help keep the line moving.  Whilst I understand the reasons for doing this, it meant that I didn't get to ride it on this day.  I could have tried to find other single riders but I didn't really feel like walking up to random people and asking if they wanted to go on a ride with me
  A good idea would be for Carters to implement a single rider queue in busy times which could make up a full car each cycle of the ride.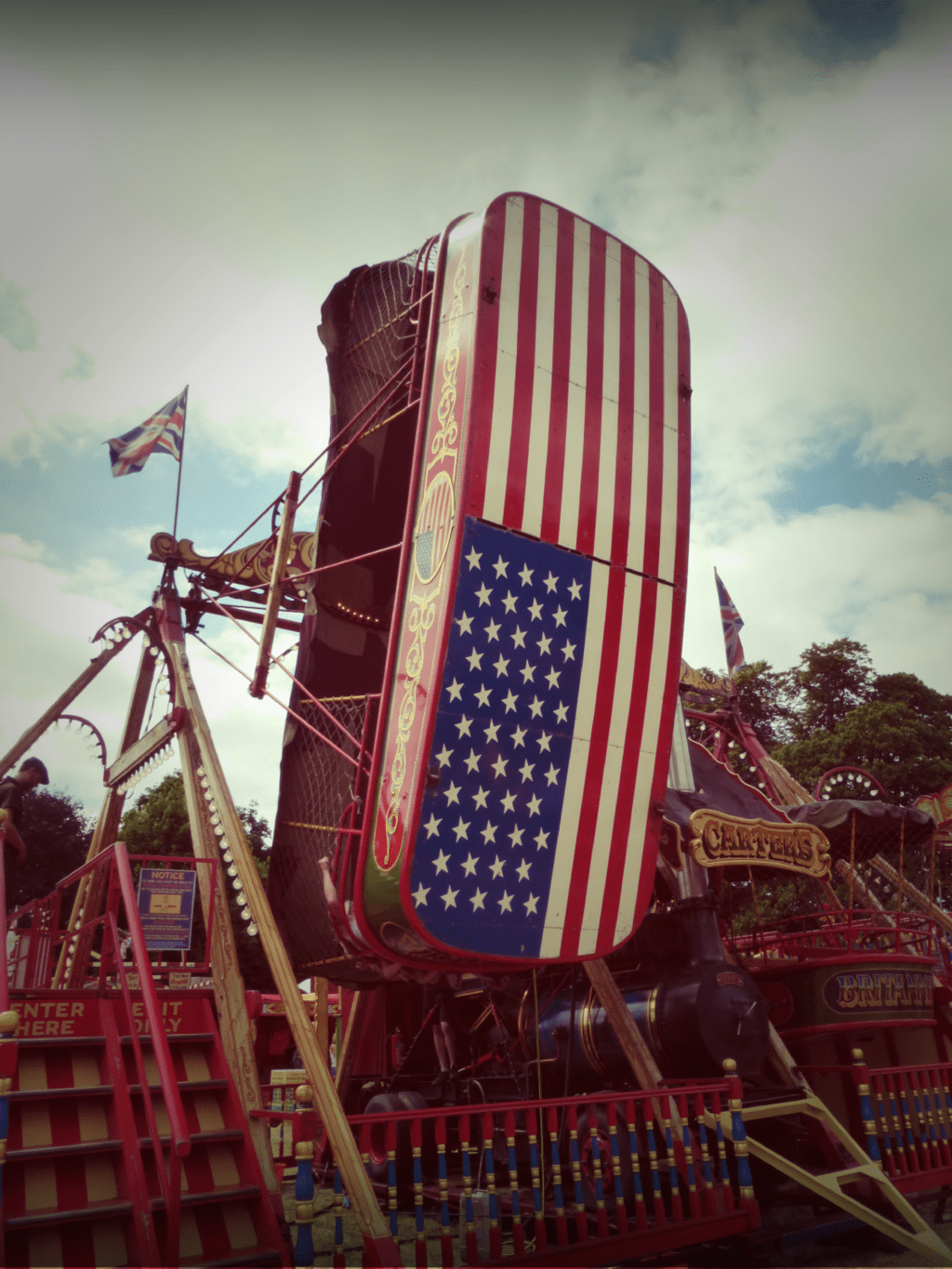 Before we left we picked up a cup of tea from one of the stalls.  I'm not really a tea drinker (coffee is my thing) however, I just fancied a tea and it was amazing.  I'm not sure if the tea was particular special (I doubt it) – but after a long day out it was the perfect end to the day. We sat at the edge of the fair, drank our tea, ate a lovely cake and people watched for a while before saying goodbye to the fair and heading home.
How Much Does it Cost?
The fair itself is free to enter and you pay for each individual ride or attraction via a token system, which if purchased individually cost 50p each with rides requiring 4, 5 or 6 tokens per person (explained below).  
It is more cost effective to buy your tokens online prior to your visit as you get free bonus rides bundled in (link provided at the end of the blog) but I believe that this has a cut-off on the day prior to your visit.  You can also get free rides with bundles when you purchase tokens in bulk on the day from the main ticket booth, but the deals are better online.  There are also a number of token machines dotted around the fair which you can purchase tickets from as a quick top-up. 
At the time of my visit the online costs for the tokens are as shown below:
Family friendly bundles start at £20 (40 tokens and 3 free rides), and continue in multiples of 20 tokens:
60 Tokens and 5 Free Rides = £30
80 Tokens and 7 Free Rides = £40… etc through to the top tier of:
200 Tokens and 20 Free Rides £100
To put this in perspective, the entry tier of £20 would get you 13 children's rides, or 11 average priced rides.  The top tier for £100 would get you 60 '5 token' rides.  If these bundles are shared between a family then my opinion is that this is excellent value for money when compared to the entry price to theme parks.  The image below shows the bundles available on the day – you can see that the price bands are the same but you get less free rides.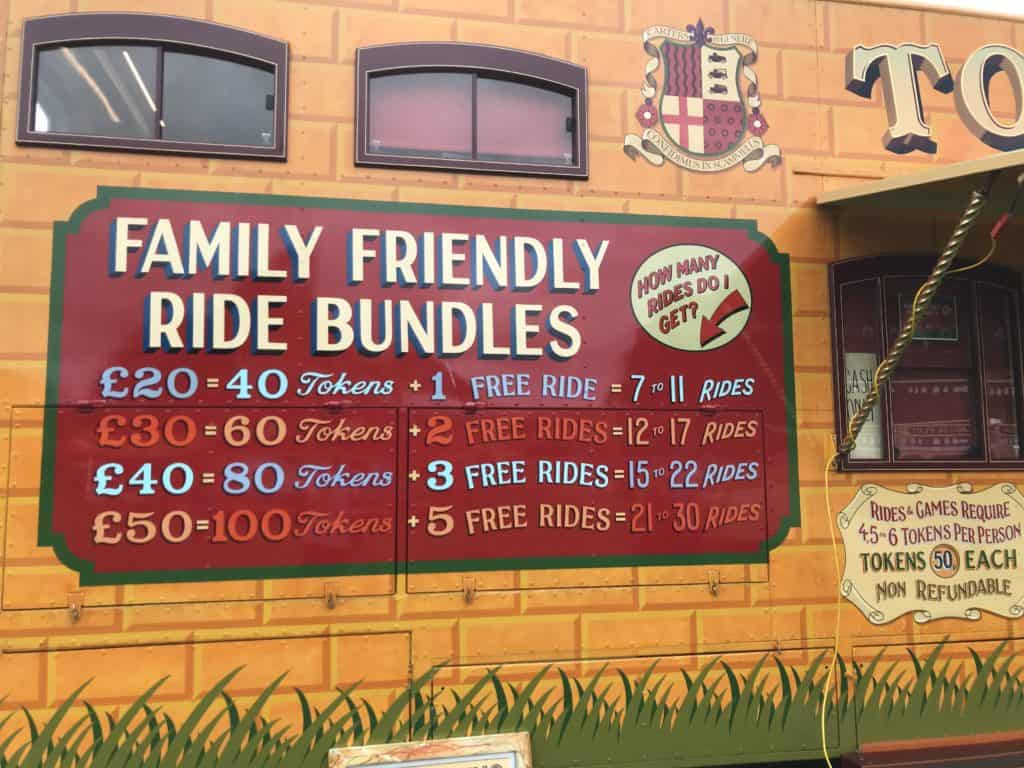 (Note that the Ghost Train is 4 tokens but was taped over due to it not being available on the day).
Dad's Tips
* Ride The Skid early in the day
* Be brave and give the Diver Bomber a go!  It's an absolute classic!
* Visit to the Penny Arcade when it's quiet
* Don't overlook the classic side attractions such as the shooting gallery or coconut sheet
* Do the historic tour if you can – it's really interesting when you are walking around and riding the rides, you'll spot hidden things and it will bring the fair to life
* Look at the Carters Facebook page to find a route map for the vehicle procession
Pros
1. Even when busy the queue lines move pretty quickly.
2. Carters often put on a free firework show – check the website to find out which day.
3. Good value day out for a family with a great selection of rides, stalls and attractions.
Be Mindful Of
1. Queues can be quite long for The Skid and they may operate a non-single rider policy during busy times (try and ride this early in the day or if you notice the queue is short).
2. There are a number of food and drink stalls available, but at busy times we did notice large queues.
3. At the Lichfield location there were no toilets were provided – however, there were public toilets a short walk away in Beacon Park.

Charlie's Ice Cream Rating 

3/5
Standard soft ice cream, not the biggest serving I've ever had (see photo) but it was really nice and didn't melt too quickly even though it was a warm day – so this gets a solid 3/5 rating. 
view the fair and rides right now!
Check out the live vlog from our visit
Before you go…
If you found this review interesting or useful, then please consider adding a comment below and also adding your name to the mailing list – I'll never spam you or pass on your details onto third parties, but you'll be the first to know when new reviews go live.  In particular I'll be adding a review and summary of the Carters Historic Tour that I attended, and will share some of the stories and fascinating insights that Joby told us on our guided trip around the fair.
Disclaimer:
Carters Steam fair kindly invited myself and my family to the fair for the day.  We were provided with a number of free tokens for rides, but we ended up purchasing more ourselves and staying all day as we were having such a great time and wanted to try out all the rides and have re-rides on our favourites.  If you read my previous review of Carters Steam Fair from 2018 or watch my Carters vlog from 2018 you'll see that I had an amazing time on that visit also.
What Will Your Next Adventure Be?