Cannock Chase Visitor Centre Family Day Out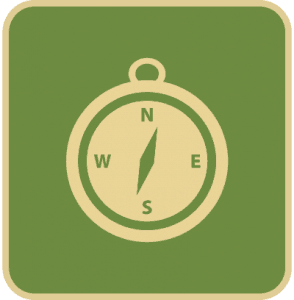 A Short Walk with from Hednesford with Wildlife, Heritage & Adventure
Last weekend we had a nice walk through Cannock Chase to the Visitor Centre at Brindley Heath where we ate lunch and played on the adventure playground, but before I tell you about our route, where we parked, the facilities and Harry's all important ice cream rating, here are the basics.
What is it

?

Cannock Chase is a former royal forest set aside primarily for hunting dating back to Norman times and was designated an Area of Outstanding Natural Beauty in 1958. Set in Staffordshire between Lichfield, Cannock, Rugeley and Stafford it covers almost 70km2 and features a varied landscape with a mixture of woodland (deciduous and managed coniferous plantations), open heathland, streams, ponds and a legacy of former industrial and military uses.
The area is home to a remarkable variety of wildlife including a heard of approximately 800 fallow deer and rare and endangered birds. The area has rich industrial and military heritage, including two former WWI camps (Brocton and Rugeley) that trained over 500,000 personnel. The camps and associated infrastructure were built from scratch with road and railway networks, electricity, water and sewage systems, and became small 'towns' with accommodation, a church, a theatre, post offices and places to eat and drink. 
Following the war, sections of the Chase were converted to an RAF training camp.  Whilst the buildings of these former bases have now long gone, there are a large number of old roads and hard standing areas, plus the remains of a mock trench system for training the troops. One of the only remaining accommodation huts has been recreated at the Marquis Drive visitor Centre (I've added a number of links at the end of this post for those that would like to learn more about this interesting history).
Today, the area is well used for a wide range of recreational activities including walking, horse riding, mountain biking, orienteering, picnics and wild flora and fauna spotting.
Our Day
We parked at the Tesco supermarket in Hednesford as the car park here doesn't have a time restriction, and I've been told (not verified) that the car park is designed to provide a service to the wider community and local shops as well as.  We popped into the supermarket to get a few supplies for our walk and then made our way over to Hednesford Park where we picked up the Cannock Chase Heritage Trail footpath that would start our journey (I'll add a link to a map of the route that we took which you can view, print off or download).
Hednesford Park has an excellent playground, skate park, tennis courts and an ice cream parlour.  It's often well used but not over crowded, but today was hosting the annual Hednesford Carnival. We decided to go for our walk and then visit the carnival on the way back.
After a short distance we reached Station Road which we crossed via a pelican crossing.  We then walked along the pavement on Brindley Heath Road before entering the historic Brindley Heath park.  This section of the walk was enclosed by trees and bushes and I soon felt like I was in the middle of nowhere.  A train passed by on the right during this first section of the walk which pleased Harry, although he did want to stop for while and wait to see if any more coming!  We eventually got him moving by pointing out a puddle on the path up ahead which he could splash in!  The area was well contained and Harry was able to run around on the grass for while as we made our way along the path.  We turned North and the path rose to higher ground along the edge of the former colliery, passing a fishing pond on our left where we briefly stopped to view the large fish that we could see as dark shadows slowly moving around the pool.  
It was a really hot day and there was little shade, so we were glad of the sun cream and drinks that we bought from the shop.  Harry kept finding puddles to splash in which whilst slowed us down a little, however, the next puddle along the path gave him the motivation to keep moving as I often pointed out that the one ahead looked much better for splashing in that the one that we were currently at!
After reaching a hard standing area (old maps show that this was perhaps part of a rail yard that severed the former coal mine) we turned right and climbed up a short hill, before eventually heading North again, following the woodland on our left, and stopping briefly to watch a buzzard circling the open fields on our right.  We soon reached a completely wooded area which provided welcomed shade from the sun, and the footpaths became grid-like as were were entering the former Brindley Heath camp area.  The paths and former roads of the base are well preserved and it's not hard to image where buildings and former parade grounds would have been.
Cannock Chase Visitor Centre
We arrived at the visitor centre ready for lunch after our 2.2 mile walk, and it felt strange for a moment turning a corner in the woods and then suddenly seeing lots of people again given that we had only seen one or two people during our entire walk.  The second thing to hit me was the amazing smell coming from the many BBQs that were in full use which made me even more hungry!
The Cannock Chase Visitor Centre has a number of great facilities and is the starting point for a number of self-guided walks and cycle paths.  There are toilets (with a drinking water tap), a picnic area with brick BBQ stands, an adventure playground, a bird watching area (which I'm told often has rare species including brambling, yellowhammer and bullfinch), a reconstructed WWI accommodation hut museum, displays and information about the Chase, a gift shop and a cafe.  We headed straight for the cafe and ordered lunch from a wide variety of choices (ranging from sandwiches, wraps and paninis to hot dishes such as baked potatoes and soup).  I had a surprisingly spicy (in a good way!) panini and Harry had beans on toast. The food was reasonably priced and good quality.
Adventure Playground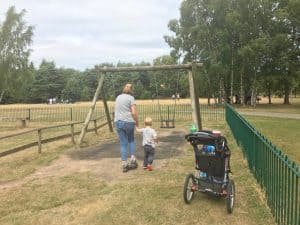 After eating lunch Harry was keen to get on the 'wobbly bridge' in the adventure playground.  They have a good selection of wooden play equipment, with the usual swings and slides, but also quite an interesting mini aerial course to navigate around (low to the ground).  The playground was quite busy on the day, but there is enough variety to keep it from feeling crowded.  A lot of the equipment looks a little tired, but it all worked and looked safe which is the main thing. 
WWI Hut
Just before starting our journey back I had a quick look at the WWI hut discovery centre.  At the far end they have recreated how the hut would have been set out with the beds and stove etc, whilst the section near the entrance contains information, old photographs and maps and a 3D model of the former camp.  The hut had a number of volunteers that were giving guided explanations and answering questions. It looked really interesting and well worth spending a little more time at.
We took the same path home for quickness as we wanted to catch the Hednesford Carnival before it finished (although I usually come up with circular routes to keep it interesting).  We arrived in time to see some classic carnival events – a display of old cars, a tug-of-war challenge and a dog show competition!  There were a large number of stalls, fairground rides and displays by various emergency services, charities and conservation trusts.  We only had a short time to look around, but next year we'll probably head over for a longer visit.
Pros
1.A nice easy going walk just over 2 miles each way
2. Good facilities at the Cannock Chase Visitor Centre including a cafe, toilets, BBQ area, playing field for outdoor games and an Adventure Playground
3. The route would be an easy mountain bike trail
4. Hedesford Park has a great modern adventure playground with toilets and a cafe
Be Mindful of
1. 
It's always a good idea to have a map or make sure your phone is well charged before walking on Cannock Chase.  You'll come across multiple path junctions on this route and you may want to check you're on the right one! 
2. There's not very much shade for the first half of the walk
3. Play equipment at the Visitor Centre was a bit tired with uneven / muddy surfaces – but it looked safe and it was an adventure playground after all!
Harry's Ice Cream Rating 

Visitor Centre 3/5
Carnival 2/5
After our walk we had a 

treat to cool down from a 

local ice cream van 

at the carnival

.  It was a really hot day, and the consistency of the ice-cream wasn't the best, but I would imagine that the machine was struggling with the heat.  Harry didn't care one bit and loved his small cone  – even if he did end up with a lot of it on his face and and t-shirt!
Note – the visitor centre did have a nice selection of standard Walls Ice Creams. Although we didn't have any they looked good for another time and so Harry would give them a 3/5!
The postcode for the car park that we used to start our walk is Victoria St, Hednesford, WS12 1BT.  If you would just like to drive and park at the Visitor Centre, that address is Marquis Drive, WS12 4PW.
What Will Your Next Adventure Be?