Alton Towers Family Day Out
A chilling & thrilling day out!
(a unique blend of serenity & excitement)
July 2019 Update
A few weekends ago we took our son to a place that I've been to many times before but under very different circumstances.  I have a bit of a thing for Theme Parks and I'm no stranger to Alton Towers, however having a two year old son in tow provided us with a completely different day out experience.  Read on to find out how our day went, how I managed to get through a day where riding all of the thrill attractions was not an option, tips and tricks when having a toddler with you, plus the all important Charlie's Ice Cream Rating.  But before all of that, let's start with the basics.
What is it

?

It's one of the UK's most visited tourist attractions and widely regarded to be one of the best theme parks in Europe. Owned and operated by the Merlin Entertainments Group, Alton Towers is situated in beautiful rural Staffordshire. Once the former country home of the Earl of Shrewsbury (built in the 1800s) it contains one of the largest formal gardens in Britain (which were first opened up to the public in 1839 to raise funds for the estate). A fair ground was introduced in the 1950s and by 1980 it was a fully functioning theme park.  

For those who want learn more about the history of the Alton Towers I've included a link at the end of this blog
Our Day
We arrived in good time before the park was due to open, but was surprised at how many other people also had the same idea! After leaving the car we headed to the monorail station. Charlie loves all things trains and was keen to ride the monorail to the main entrance. It took quite a long time to wait for the monorail to arrive  – there was some kind of technical problem and a huge queue had built up in front of us.  However riding this was a big part of the day for Charlie, and so we stuck it out.  
At the entrance we went straight to the Annual Pass holders barrier, but if you need to buy a ticket on the day then prepare for some large queues during busy times.  After a short wait for the bag check area, we headed straight to CBeebies Land.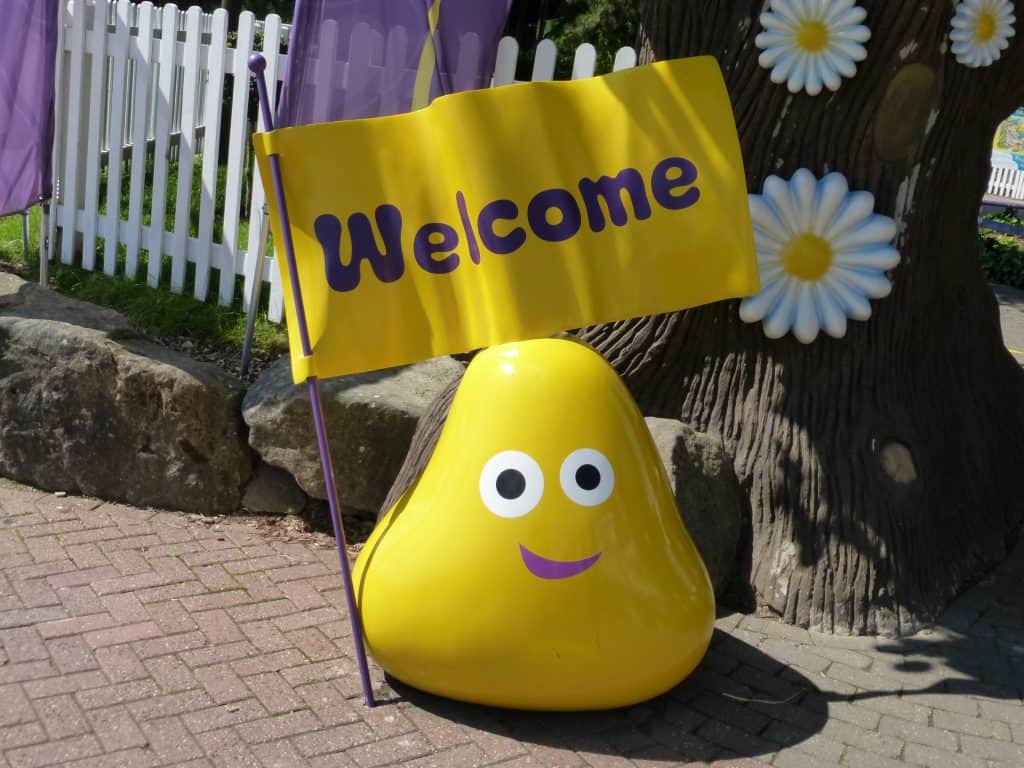 CBeebies Land
CBeebies Land can get very busy – it's not unusual to see wait times of 45min+ for rides in the afternoon, so a top tip is to go here first and get some of the key rides and attractions out of the way.    
A full list of CBeebies rides can be found on the official website (link at end of this blog post) but for now, here are some of the highlights:
The Furchester Hotel Live Show
This was a big hit!  Charlie loved it – and so did Dad! You enter the attraction at set times and in a relatively small group – note that this attraction can get busy and you may find that you are in the queue and just miss out on entering the show due to the maximum number of people being reached.  A top tip therefore is get near the front of the queue for each show by arriving early.  If the queue looks busy when you turn up, just skip it and come back later as I've seen some really upset children when they're turned away after waiting ages.
During the performance everyone sits on the floor (you can stand at the back if you want to) and the show lasts about 15 to 20 min involving a story with a live actor and live puppets. There are opportunities for children to help out by finding hidden objects and a chance to sing and stand-up and dance. It has quite an engaging story with humour for all ages, and there are no frightening parts / elements of peril. 
The only disappointment for myself and also Charlie was the fact that whilst Elmo and the Cookie Monster do appear in the story, they were not live puppets – only featuring in pre-recorded video on screens.  I suspect that this is the result of a strict branding copyright of a valuable Intellectual Property – pre-recorded video ensures vocal / behavioural consistency with the puppets and removes any risk of damaging the brand.  To me that was a real disappointment and I overhead another family having a grumble about this on the way out the show.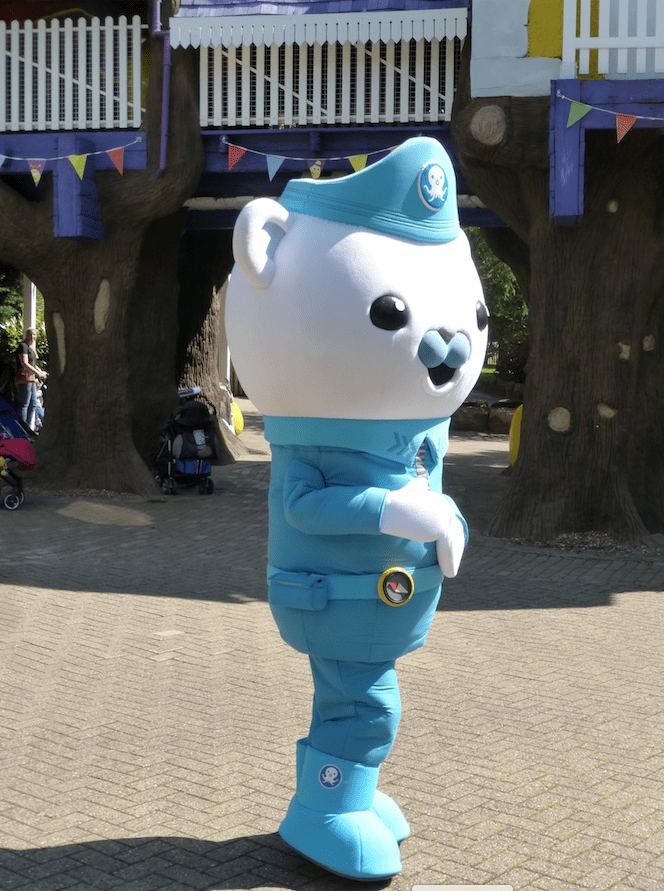 The Octonauts Roller Coaster
This was Charlie's very first roller coaster and he wasn't that impressed! While it is branded as a children's coaster, it was still pretty fast and there was a loud air-cannon blast / blast of water just near the first drop which frightened Charlie and soured the whole experience for him. At the time he said he didn't like it as it was "too noisy and fast", but when I ask him about this ride now, he says that "it was good and fast"
Postman Pat Ride
The Postman Pat attraction was good fun and suitable for children of all ages.  I think what really makes this appealing is the fact that the children have to sit in the front of the post van and so they are the ones that 'drive'.  The ride is basically like a giant Scalextric track, with cars traveling through various scenes from the TV show (but not flying off the track on the corners like my old set) . It's quite interactive as each scene requires the children to press a button on the dashboard that answers the question asked via the on-board speakers. For instance at a scene where Ted is fixing a tractor you have to press the corresponding button that matches an item that might help him (spoiler alert – it's the spanner). 
This ride is very popular and so queue times can be around an hour during busy times, so this is certainly a ride to visit early on in the day.
In The Night Garden Boat Ride
This is a really popular ride where you travel through the Night Garden on a journey in a boat passing various scenes with all the characters from the TV show.  Sensors trigger different actions and movements at various points along the ride, for instance you see the Pinky Ponk rise and float above a hedge, and then the Ninky Nonk comes trundling out through the hedge, and a bit later on Makka Packer claps his hands in time to his song. 
For those of you that don't have young children or have not seen this show that probably sounds complete gibberish, but trust me, the children absolutely love this ride – so watch those queue times in the afternoon!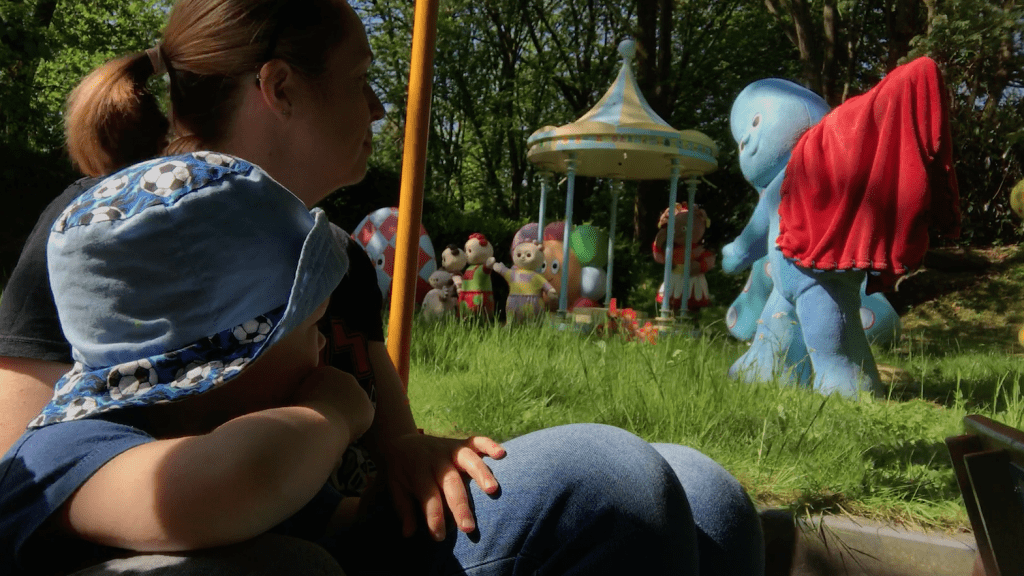 Justin's House
There is an attraction called Justin's House which looks absolutely brilliant but unfortunately Harry is a little young for this attraction, however, judging by the beaming smiles and over excited children that exited the attraction it seems a hit.  It's basically an older children's soft play crossed with pneumatic guns / cannons that fire soft balls. It looked like utter chaos inside – but great fun! 
Go Jetters
One of Charlie's favourite rides on the day of our visit was the Go-Jetters vroomsters. Aside from being in real life vroomster, and the fact that the funky disco soundtrack accompanies the ride experience, Harry loved the fact the he could control whether it went up or down!  Be warned that it does go quite high, and I noticed a few queasy looking adults exiting with their children (who were eager to ride again!)  However there is a warning I need to give for this attraction – if you ride this I guarantee that the theme tune will be stuck in your head for the rest of the day and there is a risk that you will end up like me, humming it out loud (with accompanying head nodding) whilst in the queue for Oblivion, and getting some really strange looks! 
CBeebies Live Shows
There are also a number of live attractions running throughout the day – we watched an interactive Hey Dougie show, but there were many more to chose from.  The CBeebies live show arena is also a great place to stop for lunch whilst watching a show as they have many picnic benches and a drink and snack kiosk.  In addition to this you can meet and greet characters and play old fashioned games such as skittles, throwing horseshoes (cardboard!) and a giant soft Jenga style game.
Lunch Time
We decided to take a picnic given the fact that we were promised amazing weather from the forecast and so we headed over to the ornamental gardens for lunch and found a really nice spot on the grass under the shade of magnolias.  You can see from the pictures below that the area we chose for the picnic was self-contained and so Charlie couldn't really run off, allowing us to relax, enjoy our food and soak up the beautiful surroundings. 
The gardens are really beautiful and Alton Towers have spent a significant amount of money recently renovating some of the buildings and features. What we really enjoyed was the fact that there were thousands of people in the park yet in the gardens we felt a million miles from this, and largely had the place to ourselves.  I've noticed on other visits that most people don't seem to be that bothered about visiting the gardens and so they provide a welcome break and respite with a chance to relax and calm your little ones down away from the fun and grab machines. 
The Ruined Towers
To keep out of the intense afternoon sun we decided to take a look around the ruins of the old house.  There were many sections that you could look at, and we saw beautiful ceilings, stained-glass windows and stunning views from the upper levels.  It's well worth a look around to break up the day.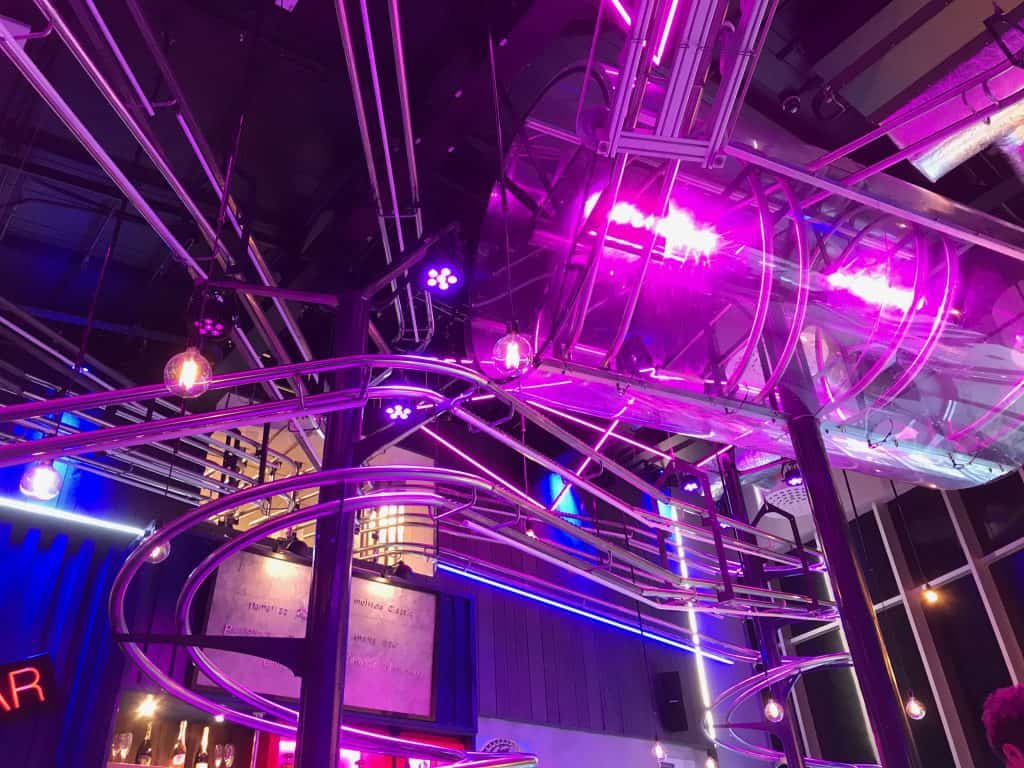 Rollercoaster Restaurant
We finished the day in the Rollercoaster Restaurant – situated in what used to be the Air retail shop in Forbidden Valley.  I'll write a more detailed review at a later date, but for those of you that don't how what this is – it is a restaurant where your food travels from the kitchen direct to your table via mini rollercoaster tracks – complete with loops!
There was a surprisingly varied selection of food – typical pub menu such as nacho's, burgers, curry, pasta, salads, and grills (salmon, steak, chicken).  The prices were slightly higher than other outlets in the park, but you were paying for the experience as well as food, however, in terms of quality, we were pleasantly surprised – far better than we were expecting and we will certainly go back.  Charlie (and Dad!) thought it was amazing and whilst waiting for our food, we loved watching the various plates whizzing and spinning in the air.
We were told that you don't need to book at table in the day, but it is recommended for the evening (as they open up the restaurant to the general public (non-park guests) after the rides close).
The decor around the room was interesting if you like your theme parks and contained concept art, models, blueprint drawings and construction photos from some of the major ride projects in the park's history.
Money Saving Tip for Alton Towers
Up to date costs can be found on the
official website
but here's a list prices (updated for July 2019):
Walkup Adult (12+): £56
Walkup Child (3-11): £48
Online Advance Tickets:
Adult: £34
Child £28.50
(note these online saver prices go up the closer to your arrival data – so you need to book at least five days in advance)
If you think that you would visit Alton Towers more than once in any year, plus if you are interested in the other Merlin attractions (Sea Life Centres, Warwick Castle, Legoland…) then I would seriously look at the Merlin annual pass. If that's not appealing then there is a current offer for an Alton Towers annual pass – this is currently the same price as a full price day ticket and allows you to revisit unlimited times in the current season (albeit with some restrictions – it excludes Fridays Saturdays and Sundays in August, the 1st and 2nd of September, scare fest and the fireworks). 
Pros
1.CBeebies Land was great fun and Charlie loved to seeing his favourite characters brought to life.
2. Option to purchase an Annual Pass for the price of a full priced ticket.
3. Wide range of non-ride activities such as the gardens, Sea Life Centre, and soft play areas.
1. Queue times has to be one of the biggest problems at Alton Towers.  If you visit out of season, mid-week in particular, then this is not an issue, however if you visit on a summer weekend you'll find wait times of nearly an hour+ for most popular rides – even those in CBeebies Land.
2. Not very helpful for young families where parents want to experience the thrill rides in turn – no single rider queue line, 
and no switch-out option like Disney operate.
*
*July 2019 Addendum
I've since found out that Alton Towers run a brilliant "Parent Swap" scheme.  Basically this will allow both parents both ride an attraction.  It's a free service that will enable one parent / guardian to queue and then swap the parental duties with the other person after their ride allowing you both to experience the fun!  This is a fantastic idea and I can't wait to try it out.  All you have to do is visit the Resort Box Office upon arrival and they'll sort you out with a a free pass.  If you've used this please let me know how it went!


3. Not much shade in some of the queue lines.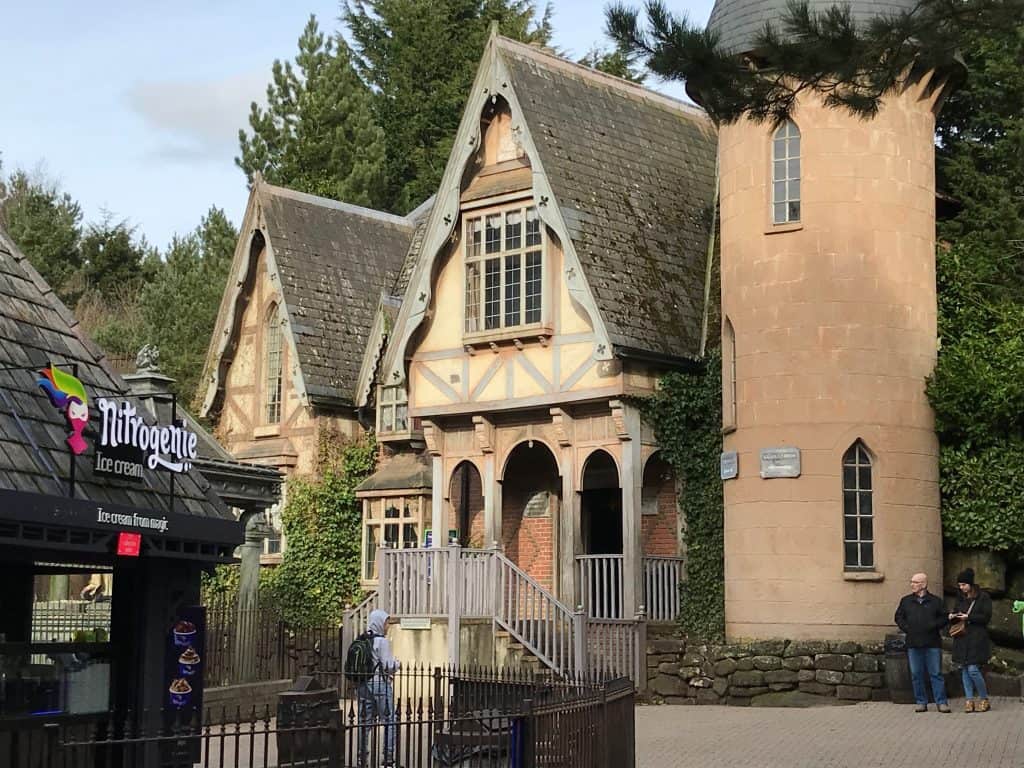 Charlie's Ice Cream Rating 

4/5
We had an amazing ice cream at the 
Nitrogenie kiosk near the G
loomy Wood ghost train ride (Duel).  The ice cream is made with liquid nitrogen and the result is a really creamy texture, with 
some
 accompanying great flavours and ingredients.  
It's quite expensive for what you get (£4+ per ice cream) but the quality is fantastic – my favourite being the lemon 
meringue – complete with a 
blowtorched finish!
Is it worth visiting if you hate roller coasters?...
Want to go to Alton Towers right now?! 
Then check out the Google Street View of the entire park and gardens!*
*Note at the time of writing the images here are quite old (pre 2014) and so do not feature CBeebies Land (thees images show the former Storybook Land themeing)
What Will Your Next Adventure Be?