Talyllyn Railway Family Day Out
A fantastic destination for a great day out
This weekend we went to one of my son's favourite places – the Talyllyn Railway in Tywyn, Wales.  With scorching temperatures pushing 30 °C we set off on the short walk from the local campsite to the railway station at Rhydyronen, but before I tell you about our wonderful day and the number of ice creams that we ate, let's start with the basics.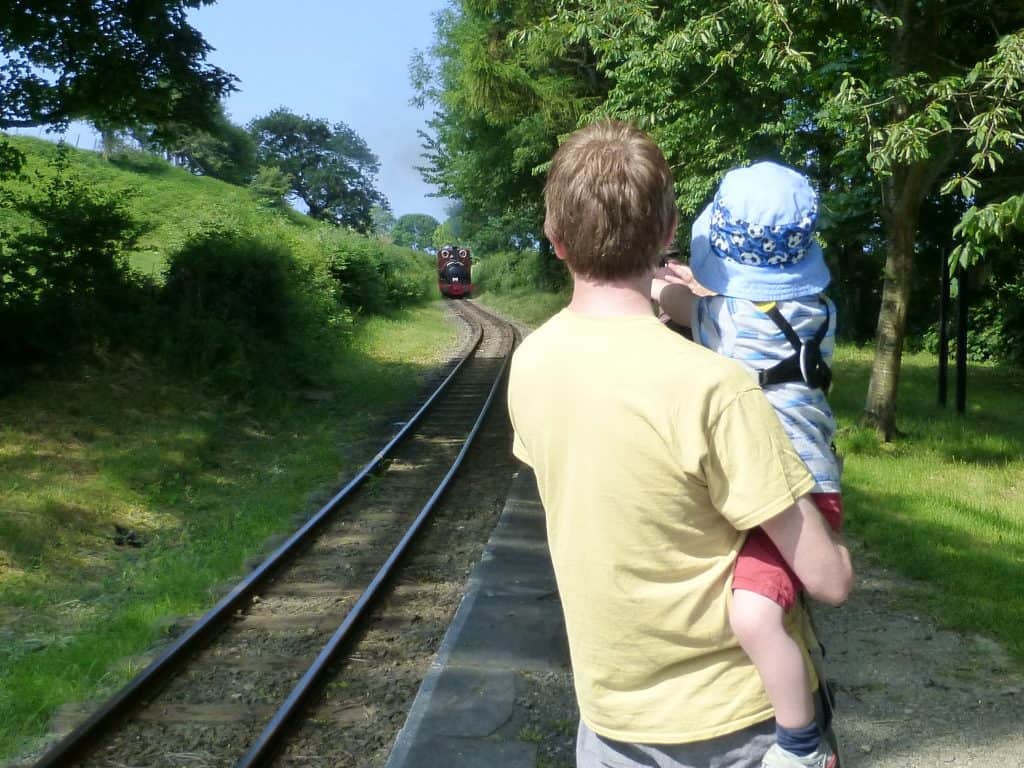 What is it

?

It's the world's first preserved railway – a living museum that takes you back to golden era of steam travel set against a legacy of slate mining.  The train line runs for 7.25 miles from the mid-Wales seaside town of Tywyn to Nant Gwernal.  It was built in 1865 to transport slate from Bryn Eglwys Quarry back to Tywyn to be loaded onto connecting mainline trains for distribution.  The journey takes approximately two hours for a round trip, which includes time for a refreshment break and a chance to play on the amazing railway themed playground (but more on that later).  For those who want learn more about the history of the Talyllyn Railway see the link at end of this review
Our Day
We caught the train at the picturesque station of Rhydyronen, playing the "who can spot the train coming first" game to keep Charlie entertained.  We boarded one of the standard carriages (first class and open carriage options were also available on our visit), and after informing the friendly guard where we wanted to go to, the whistle blew and we started our sedate journey up the beautiful Fathew valley.
We kept the journey interesting for Charlie with observation games – 'how many cows are in that field', 'can you spot a waterfall', 'what is that farmer doing with that tractor' etc.  The pace of life in the valley seems to mirror that of the train which gently climbs along the southern side of valley.
About 30 minutes into our journey we 
travelled over the impressive Victorian viaduct that I remember seeing pictures of as a child in my Railway Series books by Rev. W. Awdry (now commonly known as the 'Thomas the Tank Engine stories') before pulling into Dolgoch station.  This location is well worth exploring and the main lower water
fall is within a short distance of the train, plus you'll find a
 great cup of coffee and a 
selection of 
fantastic 
cake
 at the Dolgoch hotel just 
downstream.  
If you fancy a longer stop, footpaths take you up the valley to more waterfalls and beautiful woodland scenery – note that it's not that easy with a buggy but it is manageable even though there are some steep sections – just make sure to cross the river via the footbridge and take the path up the western side of the lower fall as this is easier to navigate that the path up from the eastern side of falls (the path leading off near the main viewing platform) – I'll add a detailed blog on an extended day out at Dolgoch Falls in the near future, so be sure to check back if you are interested in longer walks..
Today though we stayed onboard the train and carried on the journey towards Abergynolwyn, gradually climbing up the valley side.
Abergynolwyn Play Park
The second to last stop before the return journey is Abergynolwyn. Here you will find refreshments and the adventure playground themed around the railway.  It's a medium sized play area with a snaking 'railway track' to follow with activities at points along the way that include:
The park is large enough to accommodate all of the children that were on our train plus if you follow Dad's Top Tip below you'll greatly increase your chances of grabbing a picnic bench and having an empty park to play on!
We had a great time in the park and even managed to get Charlie to come over to our picnic bench and eat some lunch!  We rounded things off with an ice cream which Charlie struggled to eat before it melted – given how fast he usually eats them, it gives an indication of just how hot it was!  The journey back to Tywyn Wharf station was a lot more relaxing as Charlie fell straight to sleep for the entire trip, although he did end up missing a low flying Hercules presumably on an RAF training run.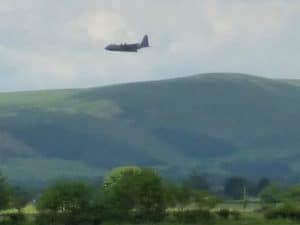 Tywyn Wharf Station
Back at Tywyn Wharf station we took Hugo for a look around the museum. This was compact and well designed with a mix of exhibits and displays to cater for all tastes (from train enthusiast to day-tripper).  There were quite a lot of 
things
 for children of all ages to do (puzzles, colouring, jigsaws, handles to turn, books to read, and audio stories to listen to) however, Charlie's favourite was to 
stand on the footplate 
of a real engine and pretending to drive it!
The museum also has a recreation of Rev. W. Awdry's study containing his actual possessions which included the very typewriter that he used to create the Railway Series ('Thomas The Tank Engine stories').  
Before catching the next train back to the campsite we had a snack at the Tywyn Wharf King's Cafe.  This is spacious enough to cope with buggies, has a wide selection of food and drink (including a really good breakfast), lots of high-chairs, plastic cutlery for children and a wooden train table which kept Charlie occupied whilst we were waiting for our order to arrive (trying to get him back to the table when it did finally arrive however was a nightmare!).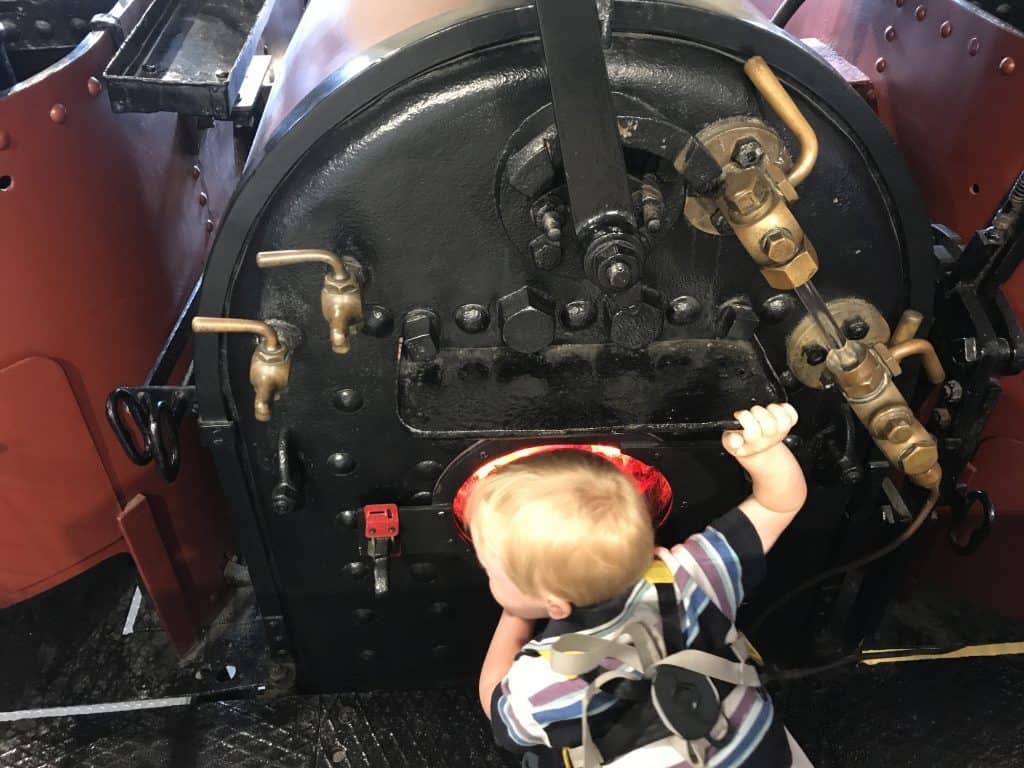 Money Saving Tip for the Talylln Railway
Up to date costs can be found on the
official website
but here's a list prices that we saw at the weekend we travelled (July 2018):
Under 3: Travel Free
Child (3+): £2.70
Adult: £17.25
However if you are in this part of the country for more than one day, or you think that you'll be re-visiting then it makes sense to become a member as you receive unlimited travel for the whole year (with a few minor exclusions on special events such as at Christmas).
At the time of writing the membership prices are as follows:
Ordinary Member (adult) £30
Associate Member (your spouse, partner, primary carer) £15
Associate Junior Member* (child of Ordinary Member) £5
* Children under 3 are free
So using my trip as an example, our son is under 3 so there's no charge for him. Two Day Rover tickets would have cost £34.50, but our annual membership cost £30 for myself + £15 for my wife = £45.  
So for an extra £10.50 we get unlimited travel on all normal timetabled trains for the entire year, a quarterly magazine and the ability to undertake voluntary work on the railway.  W
hilst this isn't 
something that we have the time for right now, it may appeal to some families with older children as they get to help out also (I was chatting to another dad during our day out – they had recently 
visited for
 a half-term holiday and a few days out of the week the Dad worked in the engine shed helping to maintain / restore  the steam engines, and his children also got to help out as part of organised volunteer events specifically aimed at
children
 which he said they really enjoyed).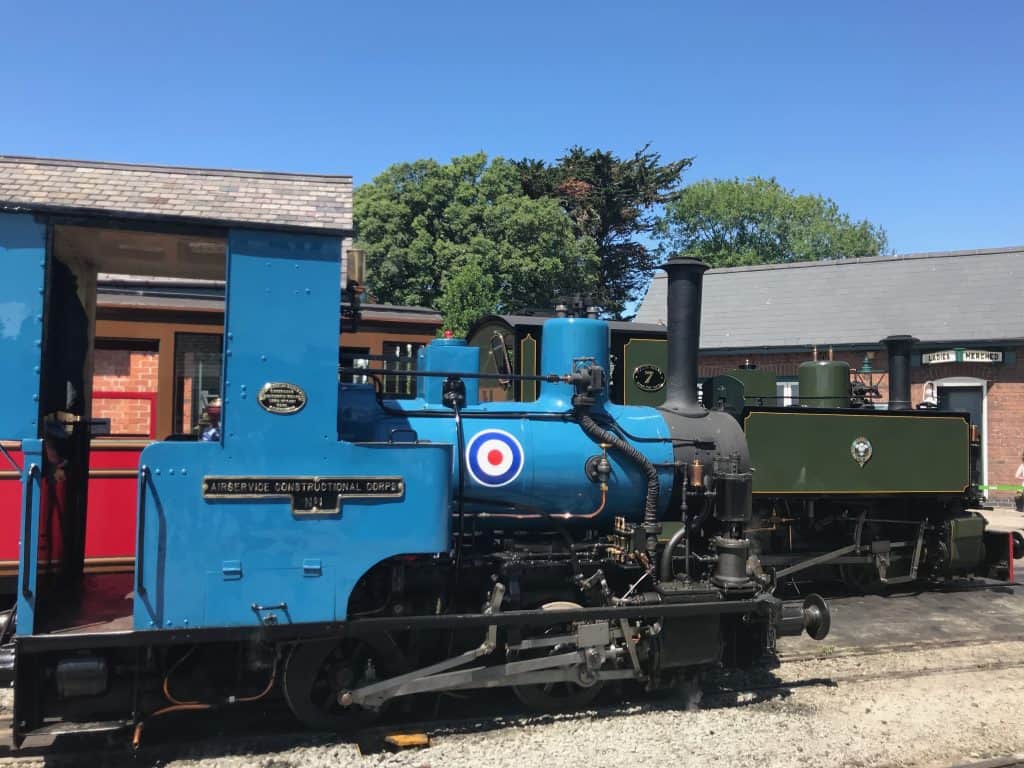 Pros
1. Self-contained day out in beautiful rural Wales
2. Plenty of opportunities for good coffee and cake
3. Children of all ages have been considered in their services and operations
1. Queues at Abergynolwyn cafe can be quite large during busy periods (follow Dad's Top Tip to get around this)
2. Train whistles and steam blasts can be very loud and will almost certainly scare young children  Dad's Top Tip – stand at the opposite end of the platform to the engine when the train is about to depart!
Charlie's Ice Cream Rating 

2/5: Standard Walls ice creams – good selection but nothing special
How to get there
The main station is Tywyn Wharf in the seaside town of Tywyn. If you're visiting for the day it is recommended that this is a good start point as there is a large car park nearby (LL36 0TF), the station has a baby change facility and there is a cafe / restaurant.  The car park is currently £1 per 4 hours. 
What Will Your Next Adventure Be?